October releases from the Perth Mint of Australia feature several new gold, silver and platinum coins that showcase a variety of themes. They include Year of the Monkey coins, a two-ounce gold high relief kangaroo coin, a star-shaped coin, a maps-shaped coin, a five-ounce high relief koala silver coin and a platinum Australian Wedge-Tailed Eagle coin.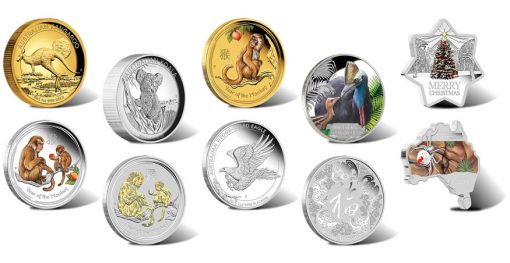 Brief information on these and other new coins from the Perth Mint is offered below.
2016 Australian Lunar Year of the Monkey Gold and Silver Coins
The Perth Mint's Australian Lunar gold and silver programs continue with 2016-dated Year of the Monkey coins. New series releases include one-ounce, one-quarter ounce and one-tenth ounce gold coins; one-ounce and one-half ounce silver coins; and a four-coin silver typeset collection. The typeset collection has a proof, a gilded, a colored and bullion finish coins — all in one-ounce sizes.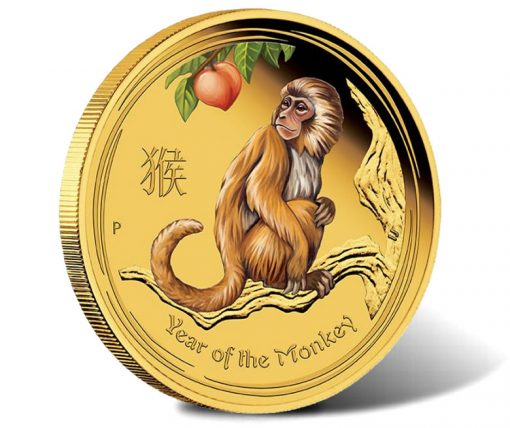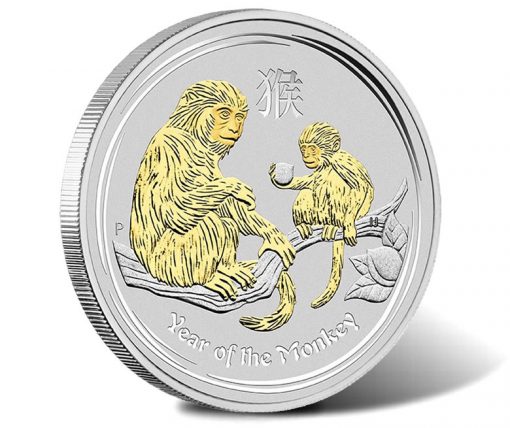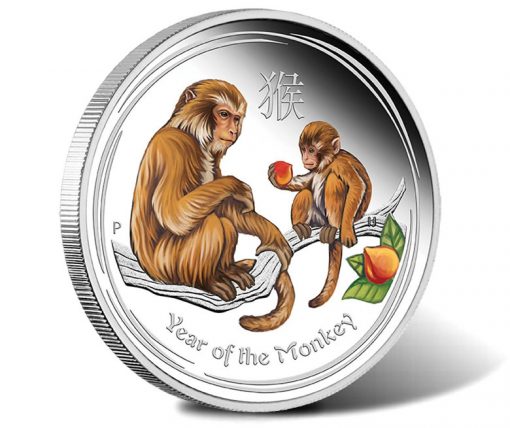 Each gold coin shows a single adult monkey sitting on the branch of a tree. The silver coins offer an adult monkey and baby monkey sitting in a peach tree. Mintages for the gold coins vary from 3,000 to 5,000 with 10,000 for each color silver coin. The limit for the typeset collection is capped at 1,500.
Gold Coins
Silver Coins
Silver Typeset Collection
2016 Five Blessings 1 oz Silver Coin
Chinese legend says that when five bats are pictured together, they are a visual representation of the Five Blessings which include longevity, wealth, health and composure, virtue, and the desire to die a natural death in old age.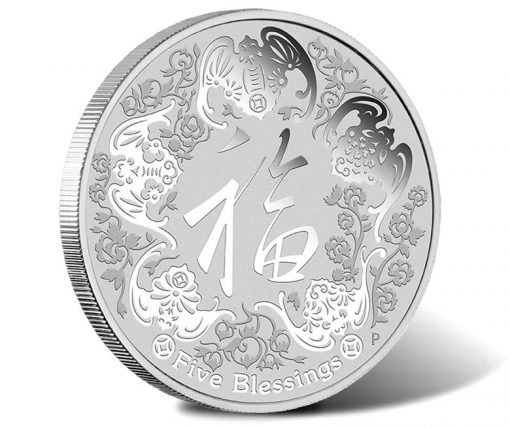 The 2016 Five Blessings 1 oz Silver Coin is struck as Australian legal tender with a face value of 1 dollar. Its mintage is capped at 10,000.
Affiliate Link to Product Page
2015 Christmas Star Shaped 1 oz Silver Proof Coin
Innovative in shape, the Perth Mint released the 2015 Christmas 1 oz Star Shaped Silver Proof Coin. As indicated by the name and in keeping with its theme of Christmas, each is in the shape of a star.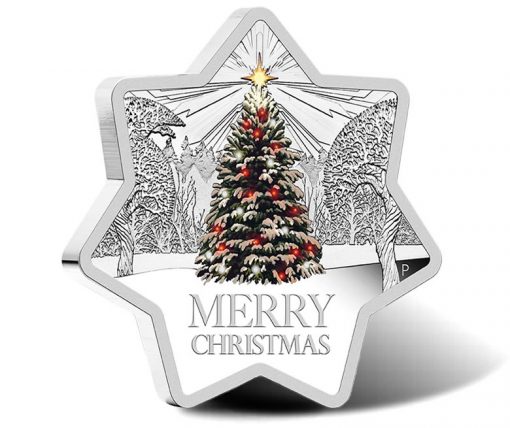 Appearing on the reverse is a colorful Christmas tree with a shining star at its top. The tree stands against a backdrop of a forest. No more than 5,000 of these coins. Each is housed in a special star-shaped capsule that can be hung as a Christmas tree decoration.
Affiliate Link to Product Page
2015 Kangaroo High Relief 2 oz Gold Proof Coin
The two-ounce 2015 Australian Kangaroo High Relief Gold Proof Coin has a very limited mintage of 250. Its reverse offers a high relief image of a single adult kangaroo as its hops across the Australian landscape at dusk.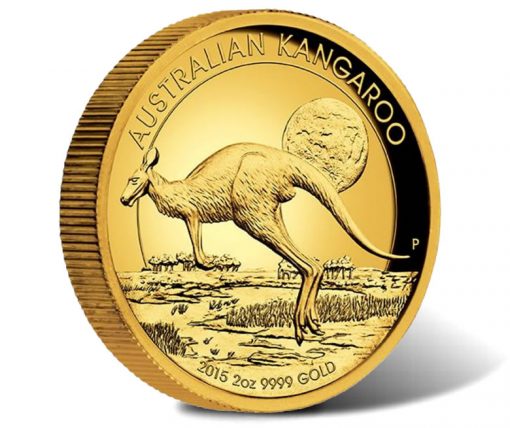 This gold coin comes housed in a Perth Mint wooden display case. An illustrated shipper and a certificate of authenticity is also included.
Affiliate Link to Product Page
2015 Wedge-Tailed Eagle 1 oz Platinum Proof Coin
Former United States Mint Chief Engraver John M. Mercanti designed the image of the Wedge-Tailed Eagle as seen on this new platinum proof coin. It depicts the eagle with its wings spread as it is about to land on a tree branch.
Mintage for the coin is limited to 500, and each is composed from one-ounce of 99.95% pure platinum. A gray display case and numbered certificate of authenticity is included with each purchase.
Affiliate Link to Product Page
2015 Australian Koala 5 oz High Relief Silver Coin
The 2015 Australian Koala 5 oz Silver Proof High Relief Coin is composed of five ounces of 99.9% pure silver. Depicted on its reverse is a single adult koala perched in the branch of an eucalyptus tree.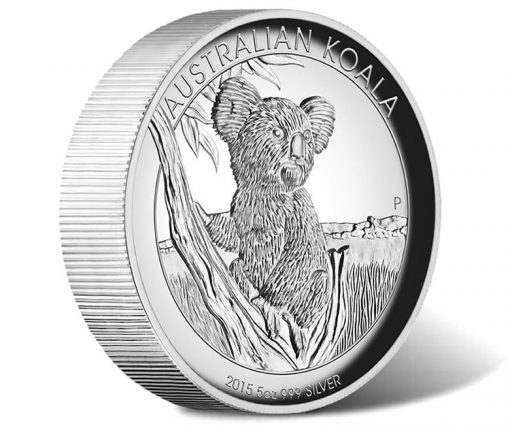 Behind the marsupial, a traditional rural landscape appears. Mintage for the coin is set at 5,000.
Affiliate Link to Product Page
2016 Southern Cassowary 1 oz Silver Proof Coin
The Perth Mint's Endangered and Extinct series continues with the one-ounce 2016 Southern Cassowary Coin. Depicted on the reverse is the likeness of a Southern Cassowary, which is a large flightless bird indigenous to Indonesia, New Guinea and parts of Australia.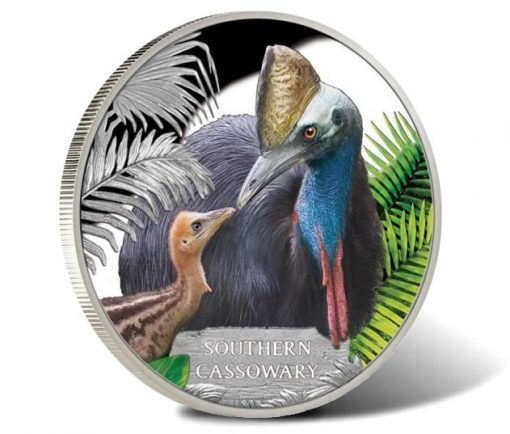 Previous program issues depicting the Tasmanian Tiger, the Tasmanian Wedge-Tailed Eagle and the Tasmanian Devil all sold out.
Affiliate Link to Product Page
2015 Australian Map Shaped Redback Spider 1 oz Silver Coin
Continuing the Perth Mint's popular map-shaped series, the 2015 Redback Spider 1 oz Silver Coin offers a reverse design of a Redback spider as it crawls across the face of a rock. Each 99.9% pure coin is struck in the shape of the Australian continent.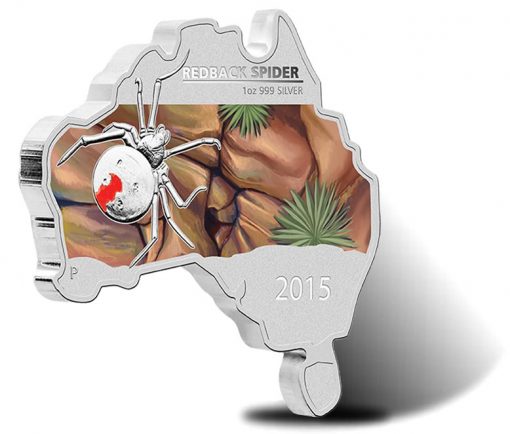 Mintage for this release is limited to 6,000. Each includes a Perth Mint display case, an illustrated shipper and a numbered certificate of authenticity.
Affiliate Link to Product Page