Gold and silver coins celebrating the Year of the Monkey dominate September releases from the Perth Mint of Australia. Several other numismatic products for the month have already drawn collectors' interests, including a Goddesses of Olympus coin in high-relief and a two-coin set of Star Trek Voyager coins.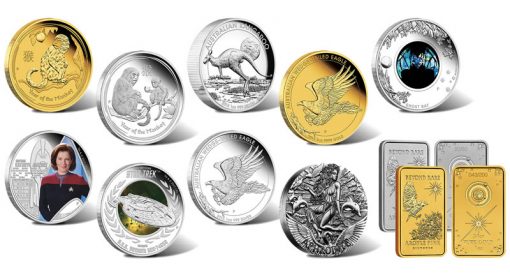 Brief information on the new September coins from the Perth Mint is offered below.
Australian Lunar Year of the Monkey Gold and Silver Coins
Continuing the Perth Mint's Australian Lunar gold and silver coin programs are new 2016-dated strikes depicting the Year of the Monkey. Featured on the gold coins is the image of a single adult monkey sitting on the branch of a peach tree. The silver coins also feature an adult monkey on the branch of a peach tree with a baby monkey joining the design.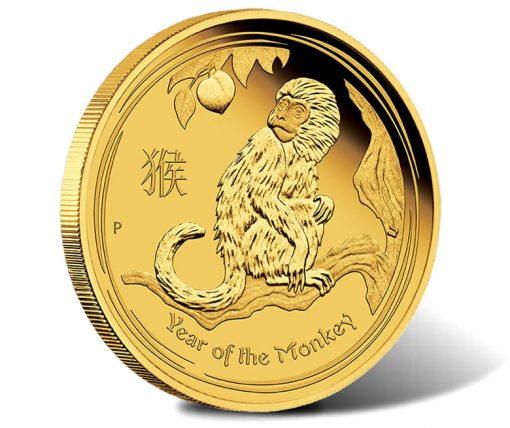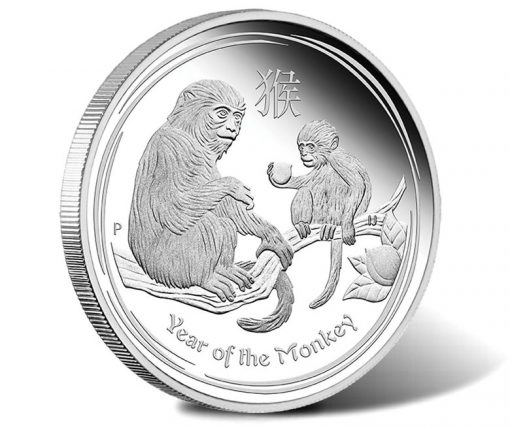 Year of the Monkey gold coins include one-ounce, one-quarter ounce and one-tenth ounce issues in collector proof quality along with a three-coin set. Individual silver issues encompass one kilo, one ounce and one-half ounce coins and a three coin set which includes a two-ounce coin, a one-ounce coin and a one-half ounce coin.
Australian Wedge-Tailed Eagle Gold and Silver Coin
Former United States Mint Chief Engraver John M. Mercanti's design of an Australian Wedge-Tailed Eagle is once again featured on these new coins. The likeness of the bird shows it in mid-flight as it prepares to land on a tree branch.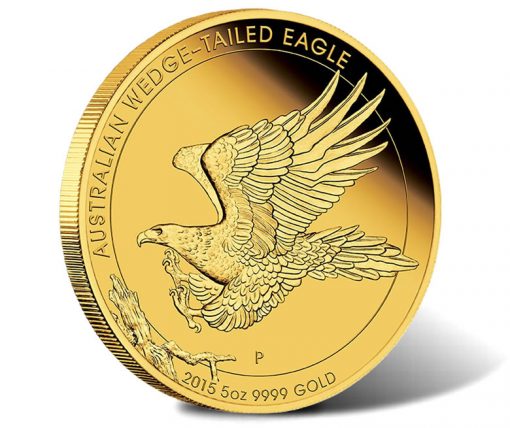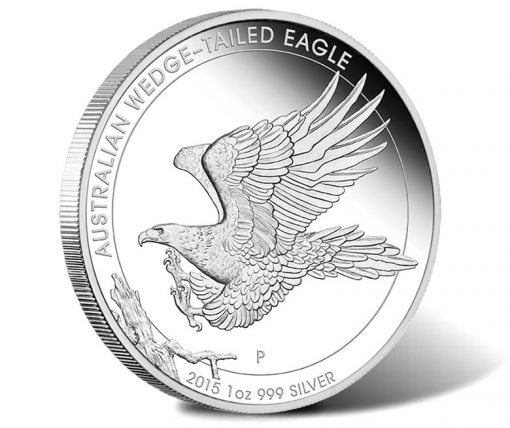 Mintage for a new five ounce gold coin is limited to 99 with 5,000 one-ounce silver coins also available. Each is accompanied by a Perth Mint display case, a customized shipper and a numbered certificate of authenticity.
Star Trek Voyager and Captain Janeway Silver Coins
The Star Trek series continues with two coins depicting the starship U.S.S. Voyager and its captain, Kathryn Janeway. Both were featured in the television series Star Trek: Voyager which aired from 1995 through 2001.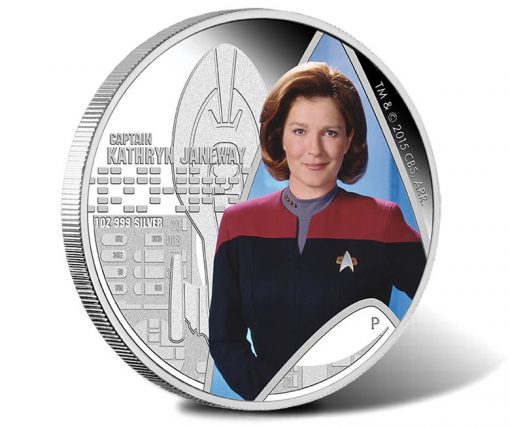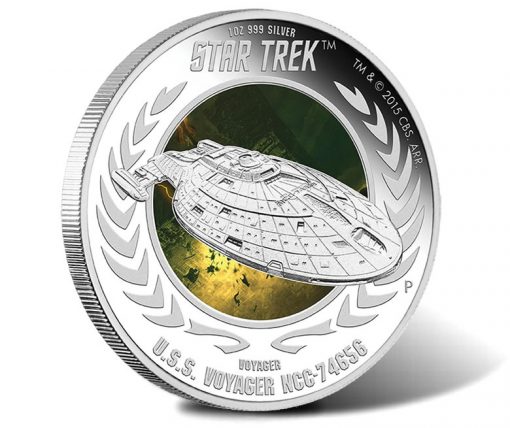 As we wrote about earlier, program coins have been of interest to collectors, especially the two-coin sets which have been limited to 1,500 and ship with a Star Trek inspired display case designed to look like a Star Trek transporter. All two-coin sets have sold out. Issue limits for the latest individual coins, which remain available, are capped at 5,000.
Affiliate Link to Product Page
Australian Kangaroo 5 oz Silver Proof High Relief Coin
A high-relief design of a kangaroo as it hops across the Australian landscape at dusk appears on the reverse of this new five ounce silver coin. In the distance, trees and a low hanging moon can be seen.
The Perth Mint indicates that no more than 1,750 of these coins will be released to the public. Each features a maximum diameter of 50.60 mm with a maximum thickness of 12.50 mm and a gross weight of 155.675 grams.
Affiliate Link to Product Page
Ghost Bat Opal Silver Proof Coin
The Perth Mint's Australian Opal series comes to a close with the 2015 Ghost Bat Silver Proof Coin. Seen in the center of the coin is an inner panel of pure Australian opal which includes the likeness of a flying Ghost Bat.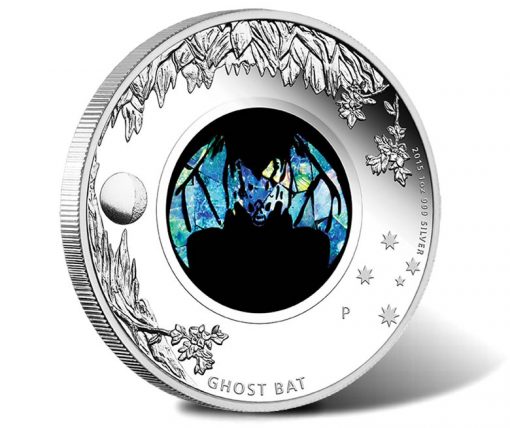 Mintage limit of the coin is 8,000. Each includes a special Perth Mint display case which features a light that illuminates the coin below when the case is opened.
Affiliate Link to Product Page
Argyle Platinum and Gold Ingots with Pink Diamonds
Also appearing from the Perth Mint of Australia is the Argyle 1oz Platinum Ingot with Pink Diamonds and the Argyle 1oz Gold Ingot with Pink Diamonds.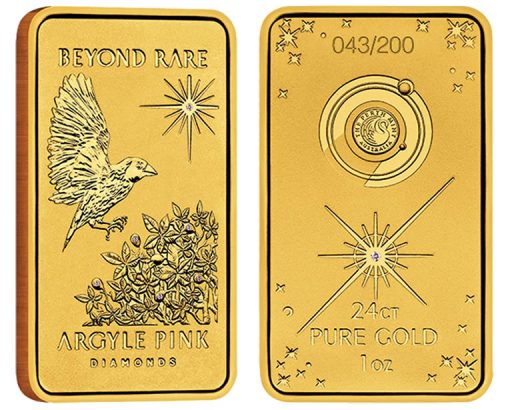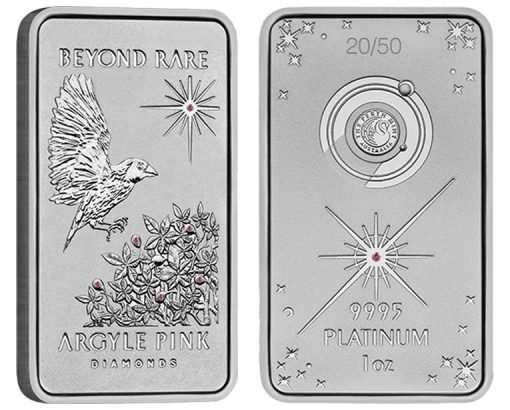 Goddesses of Olympus Aphrodite Silver High Relief Coin
No other recent Perth Mint series has realized almost immediate sell-outs as those of the Goddesses of Olympus program and its predecessor the Gods of Olympus series. Both feature high relief two-ounce silver coins struck with unique rimless designs and showcasing a desirable antique finish.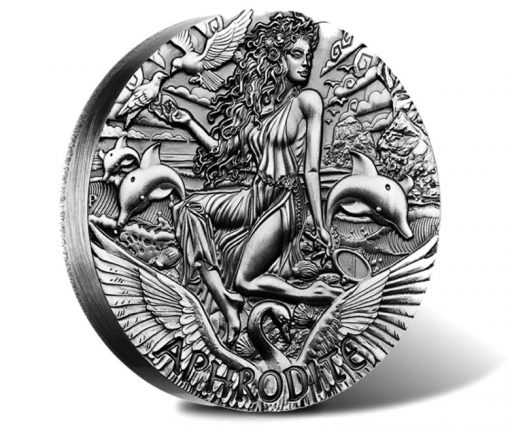 The third and final issue of the Goddesses line-up, the 2015 Aphrodite 2 oz High Relief Silver Coin, sold out within an hour of release. On its reverse is Aphrodite surrounded by a beach scene including scallop shells, a swan and three dolphins.