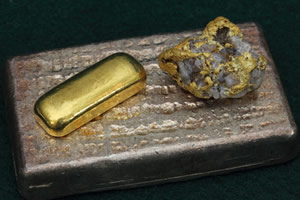 Precious metals mixed it up this week with gold falling, though up for two straight days and from a near 5-1/2-year low, and silver posting a second straight week of gains.
Gold for December delivery added $4, or 0.4%, to settle at $1,094.10 an ounce on the Comex division of the New York Mercantile Exchange.
"There's not a lot of natural reasons for investors to buy gold at the moment. The dollar is getting stronger and there's no real sign of inflation on the horizon with weaker oil prices and other commodities," Reuters quoted Ric Spooner, chief market analyst at CMC Markets in Sydney.
Gold prices dipped less than 0.1% on the week after rising 0.9% last week for their first weekly increase in six weeks. The yellow metal is down 7.6% since its final settlement in 2014 at $1,184.10 an ounce. Looking ahead to next week, Kitco News offers the following forecasts via their Wall Street vs. Main Street survey:
"This week, 202 people participated in the survey; of those 123 people, or 61%, said they are bearish on gold next week; 159 participants, or 29%, are bullish; and 20 people, or 10%, are neutral …

This week, out of 33 market experts contacted, 17 responded, of which four, or 24%, said they expect to see higher prices next week. At the same time, nine professionals, or 53%, said they see lower prices, and four people, or 24%, are neutral on gold. Market participants include bullion dealers, investment banks, futures traders and technical-chart analysts."
Elsewhere, silver for September delivery tacked on 14 cents, or 1%, to settle at $14.82 an ounce. Silver prices climbed 0.5% on the week after jumping 1.8% last week. They are down on the year to date by 5%.
In other precious metals futures on Friday:
October platinum gained $6.20, or 0.7%, to close at $962.20 an ounce.

Palladium for September delivery lost $2.90, or 0.5%, to finish at $596.90 an ounce, dropped
For the week, both metals declined 2.3%. They are sharply lower on the year so far with losses of 20.5% for platinum and 25.2% for palladium.
London Precious Metals Prices
London precious metals prices ended higher on Friday. In comparing London bullion prices from Thursday PM to Friday PM:
Gold added $3.75, or 0.3%, to $1,093.50 an ounce.
Silver gained 16 cents, or 1.1%, to $14.75 an ounce.
Platinum lost $2, or 0.2%, to $946 an ounce.
Palladium rose $3, or 0.5%, to $602 an ounce.
For the week, silver gained 1.3% while the other metals registered losses totaling 0.5% for gold, 3.4% for platinum and 1.3% for palladium.
US Mint Bullion Coin Sales in August
Demand for United States Mint bullion coins retreated this week following exceptional sales gains last week and in July. In the latest week-over-week comparisons:
Gold coins moved up 6,000 ounces after last week's pick up of 33,500 ounces. Weekly sales splits include 5,000 ounces in American Gold Eagles compared to 27,000 previously and 1,000 ounces in American Gold Buffalo coins compared to 6,500 ounces previously.

Silver coins advanced 1,180,000 ounces after soaring 2,832,000 ounces last week. Gains came entirely from American Silver Eagles with all the America the Beautiful Five Ounce Silver Bullion Coins sold out. Last week, sales included 2,820,000 ounces in American Silver Eagle and 12,000 ounces in Blue Ridge Parkway Five Ounce Silver Bullion Coins.
Below is a listing of U.S. Mint bullion products with the number of coins sold during varying periods. Products with an asterisk (*) are no longer available.
US Mint Bullion Sales (# of coins)
Friday Sales
Last Week
This Week/Aug Sales
July Sales
YTD Sales
$50 American Eagle 1 Oz Gold Coins
2,500
22,000
4,000
144,500
347,000
$25 American Eagle 1/2 Oz Gold Coins
0
3,000
0
10,000
46,000
$10 American Eagle 1/4 Oz Gold Coins
0
6,000
2,000
28,000
100,000
$5 American Eagle 1/10 Oz Gold Coins
5,000
20,000
5,000
135,000
530,000
$50 American Buffalo 1 Oz Gold Coins
500
6,500
1,000
32,000
129,500
$1 American Eagle 1 Oz Silver Coins
123,000
2,820,000
1,180,000
5,529,000
28,495,000
2015 Homestead 5 Oz Silver Coins*
–
35,000
2015 Kisatchie 5 Oz Silver Coins*
–
42,000
2015 Blue Ridge Parkway 5 Oz Silver Coins*
0
2,400
0
10,000
45,000