Ancient Chinese mythology comes to life on a new limited-edition collector coin from the Perth Mint of Australia.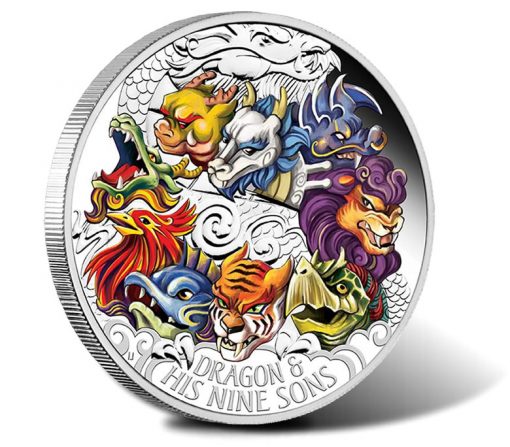 Composed from five ounces of 99.9% fine silver and entitled the Dragon and His Nine Sons 2015 5oz Silver Proof Colored Coin, it features a colorful reverse design depicting the mythical dragon with his sons.
"In Chinese culture the dragon is said to have nine sons," the Perth Mint describes in a guide about the coin's design. "Prominent figures in popular Chinese stories and often portrayed in architectural ornamentation, each one is believed to possess a unique supernatural power."
Designed by Perth Mint artist Ing Ing Jong, the reverse showcases the dragon's sons in varying colors along with the words, DRAGON & HIS NINE SONS. An effigy of Queen Elizabeth II appears on the obverse with inscriptions of QUEEN ELIZABETH II, the composition of 5 OZ 999 SILVER, the legal tender face value of 5 DOLLARS and the issuing nation of TUVALU.
These silver coins have a diameter of 65.60 mm, a maximum thickness of 5.80 mm and a minimum gross weight of 155.673 grams. Their established mintage limit is 1,000.
Ordering
2015 Dragon and Nine Sons Silver Coins are available from the Perth Mint of Australia website at www.perthmint.com.au. You may also follow the affiliate link to the
Mint's new coin releases.
Pricing is listed as AUS $450.00, which is about US $330. Each coin ships in a black leatherette display case within an illustrated shipper and includes a numbered certificate of authenticity.