Today, July 14, the Royal Canadian Mint released its latest $100 for $100 silver coin from its Wildlife in Motion series. This newest coin for collectors depicts muskoxen in their native Arctic environment.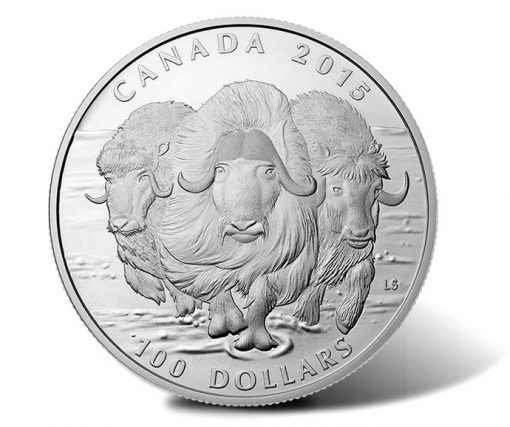 Like earlier issues — all of which have sold out, this coin is struck in one ounce of 99.99% pure silver and is available at its legal tender face value of $100. The price includes free shipping, and there is no tax.
There have been five prior Wildlife in Motion issues. Mintages of the first three coins topped at 50,000. This newest release, along with the past two, has a lower mintage of 45,000. Previous $100 for $100 coins include:
2013 $100 Bison silver coin, debuting in May 2013
2014 $100 Grizzly silver coin, launching in September 2013
2014 $100 Bald Eagle silver coin, debuting in January 2014
2014 $100 Bighorn Sheep silver coin, launching in June 2014
2015 $100 Canadian Horse silver coin, debuting in February 2015
These silver coins are viewed as a premium option to the Royal Canadian Mint's $20 for $20 program which has proven extremely popular. This older series has much higher per-coin mintages and has seen 16 coins issued to date, with all but the most recent 2015-dated coins selling out.
Designs of 2015 $100 Muskox Silver Coin
Designed by Canadian wildlife artist Laurene Spino, the coin shows the three mammals running amid an Arctic landscape. Inscriptions around the scene read: CANADA, 2015, 100 DOLLARS and the artist's initials of LS. This short Royal Canadian Mint clip shows the silver coin as it rotates:
Obverses offer Susanna Blunt's portrait of Queen Elizabeth II along with inscriptions of ELIZABETH II and D G REGINA.
Coins of the series are produced with a matte proof finish and a serrated edge. Each weighs 31.83 grams and has a diameter of 40 mm.
Ordering
2015 $100 Muskox Silver Coins are available from the Royal Canadian Mint's website at mint.ca. The U.S. price for this coin is about $78.90. An affiliate link to the Mint's $100 for $100 coins is right here
.
An illustrated display box accompanies each purchase. There is a household ordering limit of three in place.