Earlier this month, the Perth Mint of Australia introduced a new product for investors, the 2015 Battle Of The Coral Sea Silver Bullion Coin. Each piece is composed of one-half ounce of 99.9% pure silver.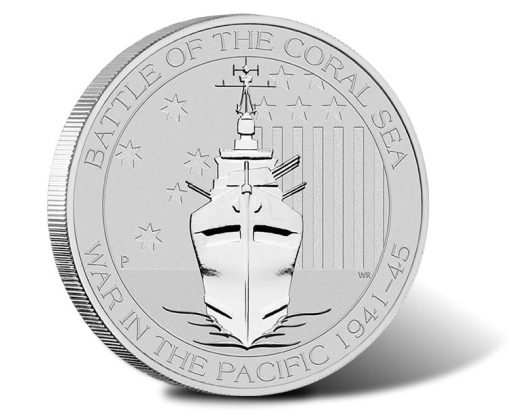 The Battle of the Coral Sea was fought off the north-east coast of Australia from May 4-8, 1942. Sometimes referred to as the "battle that saved Australia," the engagement was between the Imperial Japanese Navy and allied forces from Australia and the United States. This Second World War battle effectively stopped the Japanese advance to the south.
Like last year's release, the bullion coin portrays a World Wart II naval ship with guns raised against a background comprising representations of the Southern Cross constellation and the Stars and Stripes. Inscriptions around the scene include WAR IN THE PACIFIC 1941-1945 and BATTLE IN THE CORAL SEA.
Struck as Australia legal tender, Ian Rank-Broadley's effigy of Queen Elizabeth II appears on obverses. Surrounding inscriptions read ELIZABETH II, AUSTRALIA, the face value of 50 CENTS, the year 2015 and the silver coin's purity of 1/2 OZ 999 SILVER.
2015 Battle of the Coral Sea 1/2oz Silver Bullion Coins ship worldwide in 25-coin protective acrylic tubes with tamper evident security seals. Monster boxes with 20 tubes, or 500 coins, are also available. Mintage of the silver coin has been established at 615,017.
For more information about Perth Mint bullion products, visit www.perthmintbullion.com.