Princesses, captains, starships, kangaroos, kookaburras, World War II battles and Wedge-Tailed Eagles are just some of the subjects featured on new coins now available from the Perth Mint of Australia.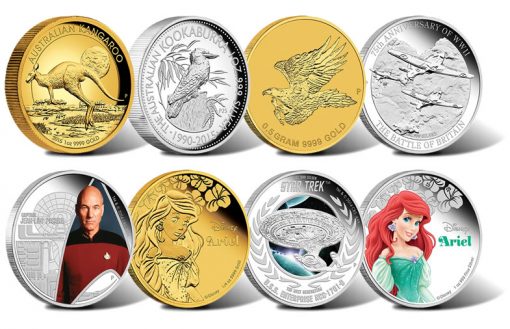 These new issues highlight the variety of numismatic products released by the Perth Mint in May. Additional information, specifications and links to the new collector products are offered below.
2015 Kangaroo High Relief Gold Coin
The 2015 $100 Australian Kangaroo High Relief 1 oz Gold Coin continues the Perth Mint's annual and popular Kangaroo coin program. However, unlike most issues in the series, this release features the marsupial in high relief.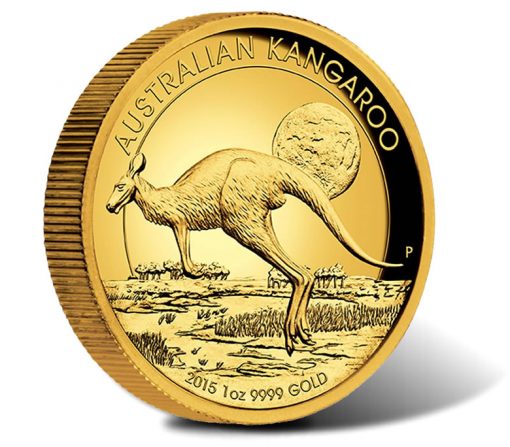 This high relief treatment adds to the level of detail already present in traditional Perth Mint kangaroo designs. Struck to collector proof quality in 99.99% pure gold, this coin shows an adult kangaroo bounding across an Australian landscape at dusk with the moon and trees in the background. Its mintage is limited to 500.
Affiliate Link to Product Page
2015 Kookaburra High Relief Silver Coins
Kookaburra silver coins first appeared from the Perth Mint in 1990. Originally issued only in a bullion editions, collector grade finishes soon followed. The Perth Mint acknowledges the important twenty-five year milestone of the program with this month's release of 25th anniversary coins in high relief and in 1oz and 5oz sizes.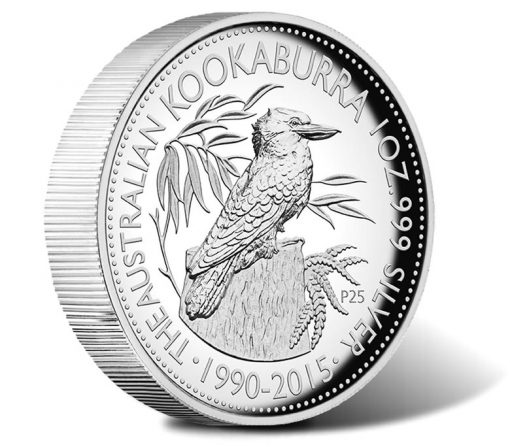 Featured on their reverse is an iconic image of the kookaburra bird as its sits on the stump of a tree. Eucalyptus leaves and a fern add to the design.
Maximum mintage for the 1oz piece is 10,000. The 5oz coin is limited to 1,000. Both are minted in 99.9% pure silver and in proof quality.
Affiliate Link to Product Page
2015 Star Trek The Next Generation Silver Coins
Appearing about two months after coins commemorating the original Star Trek series sold out, the Perth Mint introduces the 2015 Star Trek The Next Generation Captain Jean-Luc Picard and U.S.S. Enterprise NCC 1701-D Silver Proof Coins. As we covered earlier this month, these officially licensed products offer designs portraying Captain Picard and the U.S.S. Enterprise.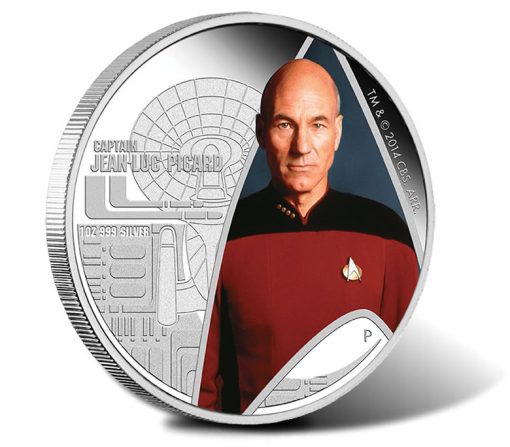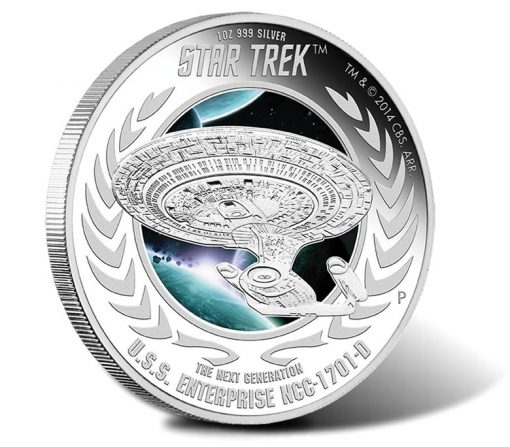 Like the first series issues, the latest Star Trek coins launched individually and in a two-coin set, and with unique packaging. Coins are in proof and in 1oz of 99.9% silver. Issues limits are 5,000 for each edition.
Affiliate Link to Product Page
2015 Battle of Britain Silver Coin
The Battle of Britain was one of the most important engagements of World War II and it was fought entirely by air forces. Acknowledging the 75th anniversary of the occasion, the Perth Mint has issued the one-ounce, 99.9% pure 2015 $1 Battle of Britain Silver Proof Coin.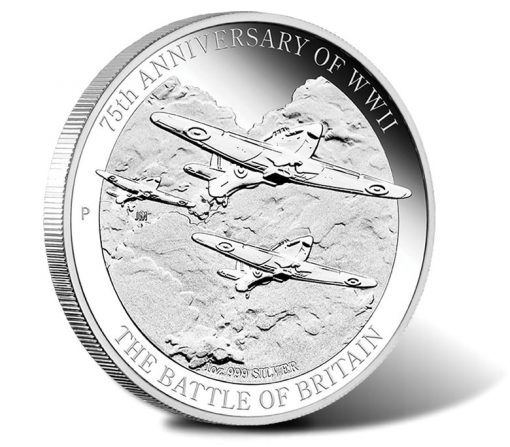 Seen its reverse are three Hawker Hurricane fighter aircraft flying through the sky during the Battle of Britain.
Affiliate Link to Product Page
2015 Australian Wedge-Tailed Eagle 0.5g Gold Coin
Australia's largest bird of prey, the Wedge-tailed Eagle, is depicted on a new 0.5g gold coin minted in proof quality and in 99.99% purity.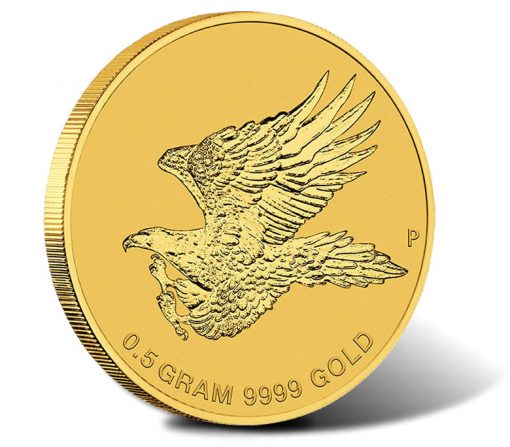 This button-sized $2 gold coin is similar to the Mini Roo, Mini Koala and Mini Kookaburra coins that have proven very popular, supported by their more affordable pricing.
Affiliate Link to Product Page
2015 Sunburnt Country Ragged Mountain Ranges Silver Rectangle Coin
Appearing as the second individual coin in a four-coin series celebrating Dorothea Mackellar's My Country poem is the one-ounce, proof 2015 $1 Sunburnt Country Ragged Mountain Ranges Silver Rectangle Coin.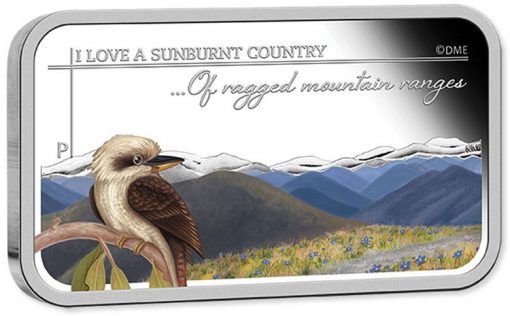 Its reverse features a colored image of an Australian mountain landscape. Adding to the image is the likeness of an Australian Kookaburra. No more than 5,000 will be sold.
Affiliate Link to Product Page
2015 Disney Princess Ariel Gold and Silver Coins
New Disney coins debut this month in 1oz silver and 1/4oz gold sizes. Their reverses show Ariel, the princess from Disney's Little Mermaid animated feature. These proof coins continue an officially licensed Disney series that has featured famous characters such as Mickey Mouse, Donald Duck, Cinderella, and Princess Aurora.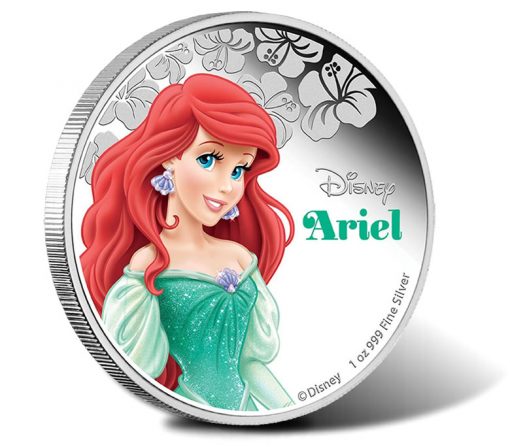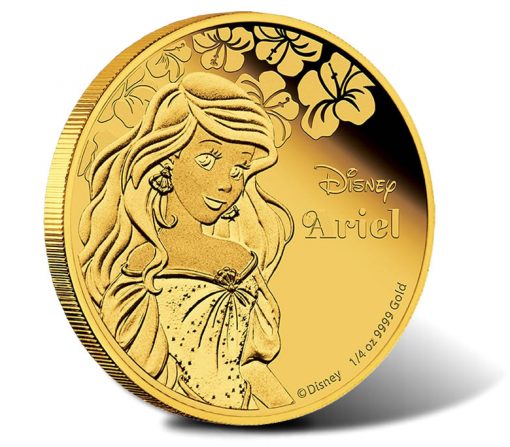 Mintage for the 2015 $25 Ariel gold coin is capped at 1,000. The 2015 $2 Ariel silver coin is limited 10,000. Each ships with a Fairy-tale Presentation Case and a numbered certificate of authenticity.
Affiliate Link to Product Page