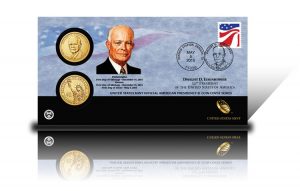 Today, the United States Mint started accepting orders for the new coin covers that feature 2015 Eisenhower Presidential dollars.
With a limited mintage of just 15,000 and priced at $19.95, this latest collectible product is the 34th issue in the U.S. Mint's American Presidency $1 Coin Cover Series, and it honors Dwight David "Ike" Eisenhower, the five-star general and 34th President of the United States.
This cover holds two circulating quality Eisenhower Presidential $1 Coins, with one minted at the Philadelphia Mint and another produced at the Denver Mint.
Both coins are from the first day of production at their respective striking locations. The first day of minting at Denver was December 15, 2014. A few days later, production started in Philadelphia on December 18, 2014. These two dollars are in a display card, which comes in an envelope bearing a Red, White, and Blue Forever® stamp.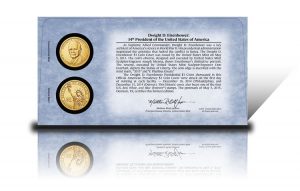 The front side of the coin cover shows a portrait of the President with a postmark of May 5, 2015, Denison, TX — representing the cover's issue date and the city where Eisenhower was born.
On the back of cards is information about the president, the dollar coins, and the product itself.
Designs on Dwight D. Eisenhower Presidential $1 Coins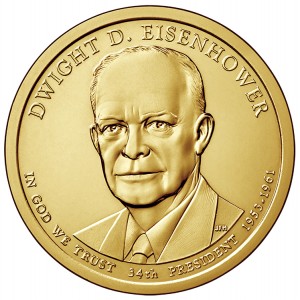 Designed and sculpted by Joseph Menna, obverses or "heads side" of the dollar depict a likeness of Eisenhower with surrounding inscriptions that read: DWIGHT D. EISENHOWER, IN GOD WE TRUST, 34th PRESIDENT and 1953-1961 for the years he served as commander-in-chief.
All Presidential $1 Coins share reverse or "tails side" designs bearing Don Everhart's rendition of the Statue of Liberty. Inscriptions around her include UNITED STATES OF AMERICA and their face value of $1.
Also common to dollar coins are inscriptions incused around edges that show their year of issue, the 'P' or 'D' mint mark for the originating U.S. Mint facility, and E PLURIBUS UNUM.
Ordering
American Presidency $1 Coin Covers are available at the U.S. Mint's website page, located here, and phone orders are accepted at 1-800-USA-MINT (872-6468).