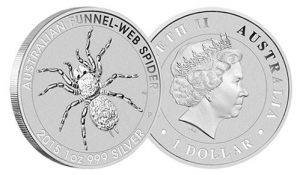 Demand for Australian bullion products surged in March, according to figures from the Perth Mint of Australia, with gold sales the highest in three months and silver sales the strongest in four months.
Perth Mint gold coins and gold bars rose 34,260 ounces last month, advancing 7.1% from the 31,981 ounces claimed in February and marking a 13.5% increase over the 30,177 ounces moved a year earlier. Gold sales total 89,415 ounces through the first quarter, off 37% from last year's starting three-month total of 141,998 ounces.
Perth Mint sales of silver coins at 638,557 ounces soared 62.9% from the 392,114 ounces in February and jumped 17.1% from the 545,165 ounces sold in March 2014. In the January to March period, silver sales total 1,616,624 ounces for a 12.6% decline from first quarter 2014 sales of 1,849,641 ounces.
Perth Mint Gold and Silver Sales by Month
Below is a monthly breakdown of Perth Mint bullion sales from March 2014 to March 2015.
Perth Mint Bullion Sales (in troy ounces)
Silver
Gold
March 2015
638,557
34,260
February 2015
392,114
31,981
January 2015
585,953
23,174
December 2014
477,731
40,211
November 2014
851,836
49,904
October 2014
655,881
55,350
September 2014
756,839
68,781
August 2014
818,856
36,369
July 2014
577,988
25,103
June 2014
586,358
39,405
May 2014
630,349
36,127
April 2014
361,988
23,461
March 2014
545,165
30,177