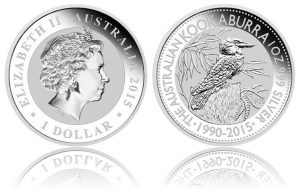 2015 Australian Kookaburra silver bullion coins in the 1-ounce size sold out, the Perth Mint announced on Monday, March 23. Annually issued since 1990, this year's coin was limited to 500,000.
"The popular 1oz Kookaburra has achieved sell-out every year since 2008, reflecting its reputation as one of most eagerly sought-after limited mintage silver bullion coins in the world," the Perth Mint stated.
Sales of the 2015-dated, 99.9% pure silver coins kicked off in September along with companion 10-ounce and 1-kilo sizes. The two larger coins have mintages based on demand with the latest available stats showing their sales at 11,501 and 11,100.
This year marks 25 years for the Australian Kookaburra bullion coin series that features annually changing reverses featuring the bird native to Australia. To celebrate the anniversary, 2015 coins bear the original design from 1990 — an adult Kookaburra sitting on a tree stump surrounded by eucalyptus leaves and a fern. Marking the anniversary is a unique mintmark of 'P25'.
Obverses or heads side of the bullion coins always depict Her Majesty Queen Elizabeth II.