Israel has become a hotbed for treasure recently as another discovery of coins and other artifacts is in the news.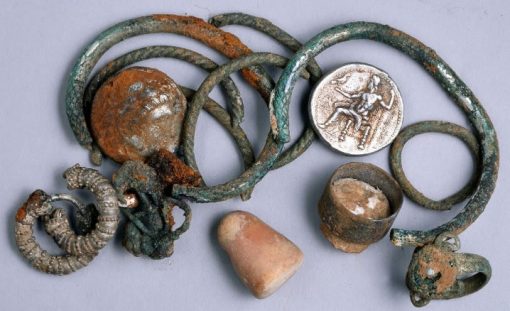 CoinNews readers may recall that just a few weeks ago we talked about the hoard of nearly 2,000 gold coins recovered from the seabed in the ancient harbor in Caesarea National Park. This week, another treasure of coins, rings, bracelets and earrings was reported found inside a cave in northern Israel.
The discovered coins are believed to have been minted during the reign of Alexander the Great, some 2,300 years ago. They were found by three members of the Israeli Caving Club — Reven Zakai, his son Hen, and Lior Halony.
Hen had forced his way into a narrow niche when he spotted something shiny. The group then returned and contacted the Israel Antiquities Authority who sent experts to verify and document the find.
The treasure is "one of the most important discoveries to come to light in the north of the country in recent years, and will require much time to study in order to crack the secrets of the cave," the Jerusalem Post quoted an official from the Israel Antiquities Authority.
Surprisingly, it is believed that the coins dating back to more than two millennia ago were not the oldest artifacts of the hoard. Some of the treasure appears to date back more than 6,000 years.
Under Israel's Law of Antiquities, all antiquities are considered property of the government. Had the group not reported the find, they could have been punished with up to five years in prison.