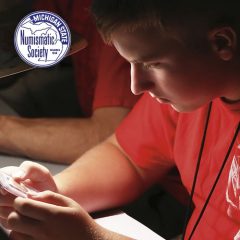 Michigan State Numismatic Society (MSNS) and American Numismatic Association (ANA) have partnered to offer a two-day seminar on grading mint-state United States coins.
The seminar, entitled Grading Mint State Coins, will be held in conjunction with the MSNS Spring Convention & Coin Show in April and offered by the American Numismatic Association School of Numismatics. The course synopsis reads:
Using a comprehensive digital presentation, in-depth discussion, market grading analysis and extensive hands-on coin viewing, students will develop their ability to grade mint state United States coins. Students will learn to spot many often-missed surface problems, alterations and enhancements that can adversely affect grade. Basic conservation techniques, toning, coin doctoring, and Star and Plus grade designations will also be discussed. A catered lunch will be provided each day by the Michigan State Numismatic Society.
Brian Silliman, professional numismatist, will instruct. Founder of Brian Silliman Rare Coins, Mr. Silliman is a former grader and authenticator for the Numismatic Guaranty Corporation (NGC), and former ANA authenticator and conserver for the ANA Authentication Bureau.
Priced at $248 for ANA and MSNS members, and $348 for non-members, the seminar will be held from 9 a.m. to 5 p.m. on April 8th and 9th at:
Macomb Community College Expo Center
South Campus
14500 East 12 Mile Road
Warren, Michigan
To register for the seminar, visit money.org/events/SeminarsAtMSNS2015 or call 719-482-9865.
MSNS's annual spring convention begins April 10. For more information, visit www.michigancoinclub.org.