New silver and gold collectible proof coins feature Cinderella, a beloved fairy tale character known around the world as brought to life in Walt Disney's 1950 musical fantasy film.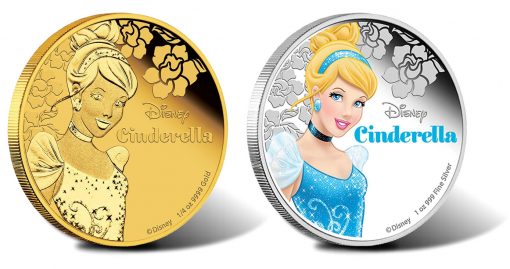 Mistreated by her stepmother and stepsisters, Cinderella finds love when her Fairy Godmother transforms her into a princess and she meets Prince Charming. Disney's film received three Academy Award nominations for Best Song, Best Sound, and Original Music Score.
Reverses or tails side of both proof coins feature an image of the princess surrounded by flowers.
Limited to 10,000 and priced at AUS $97.73 or US $76.36, Disney Princess Cinderella silver coins are struck in one ounce of 99.9% fine silver to a diameter of 40.60 millimeters.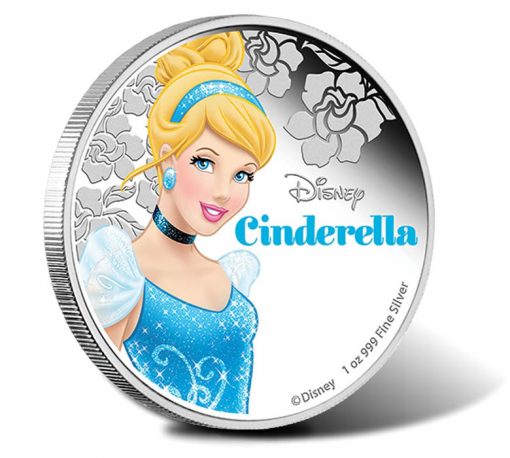 Limited to 1,000 and priced at AUS $754.55 or US $589.58, Disney Princess Cinderella gold coins are struck in one-quarter ounce of 99.99% fine gold to a diameter of 20.60 millimeters.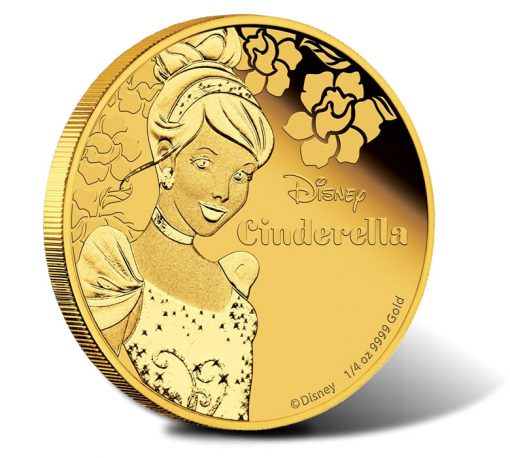 Reverse inscriptions for both coins include DISNEY CINDERELLA, © Disney, and 1/4 OZ 9999 GOLD for the gold coin or 1 OZ 999 FINE SILVER for the silver coin.
Under official license of Disney and like other recent Disney-themed coins, these latest collectibles are issued by the New Zealand Mint as legal tender of the Pacific Island of Niue. As such, obverses bear Ian Rank-Broadley's effigy of Her Majesty Queen with surrounding inscriptions of ELIZABETH II, NIUE, 2015 and TWO DOLLARS for the silver coin and 25 DOLLARS for the gold coin.
Ordering
2015 Disney Princess Cinderella silver and gold coins may be ordered from the Perth Mint website at http://www.perthmint.com.au, or use the following affiliate link to visit the page of
Perth's Disney Coins.
Silver coins are presented in special Disney packaging made to represent a book of fairy tales. Gold coins are presented in a special Disney wooden display case. Both coins ship with a certificate of authenticity.