Now available is a one-half ounce Maple Leaves Silver Coin touted by its maker, the Royal Canadian Mint, as lower in price, lower in mintage and as a beautiful gift or keepsake.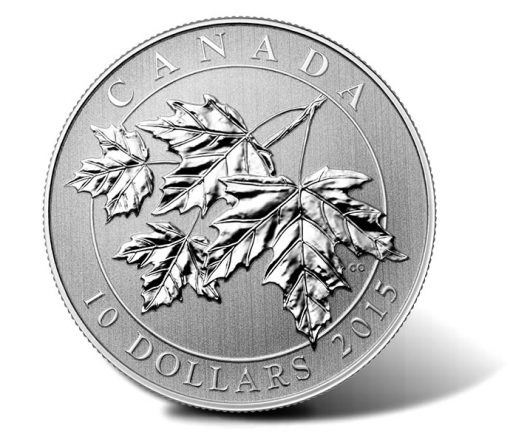 Priced at CAD $29.95, or US $23.92, the 99.99% fine silver coin's mintage was cut in half from the previous year to 25,000. Last year's issue was $10 more.
Appearing on the coin's reverse or tails side are four different sized maple leaves, as designed by Canadian artist Celia Godkin.
"These leaves are from a sugar maple tree (Acer saccharum), and are depicted as they would be found in the wooded areas of Eastern Canada; growing on a twig at the very end of a branch, they stir ever so gently in the warm summer breeze," describes the Royal Canadian Mint. "Detailed engraving brings to life their characteristics, including the vein ridges that run through each leaf's five lobes."
Reverse inscriptions include CANADA, 10 DOLLARS, 2015 and the artist's initials of CG. Susanna Blunt's effigy of Queen Elizabeth II graces the obverse along with inscriptions of ELIZABETH II and DG REGINA, which is Latin for "By the Grace of God, Queen."
Mint-provided coin specifications include:
Mintage: 25,000
Composition: fine silver (99.99% pure)
Finish: specimen
Weight (g): 15.87
Diameter (mm): 34
Edge: serrated
Certificate: serialized
Face value: 10 dollars
Reverse Artist: Celia Godkin
Obverse Artist: Susanna Blunt
Ordering
Orders for the 2015 $10 Silver Maple Leaves Coin may be placed on the Royal Canadian Mint's website at mint.ca. An affiliate link to the Mint's new releases is right here
.
Each coin arrives encapsulated and within a Mint-branded presentation case.