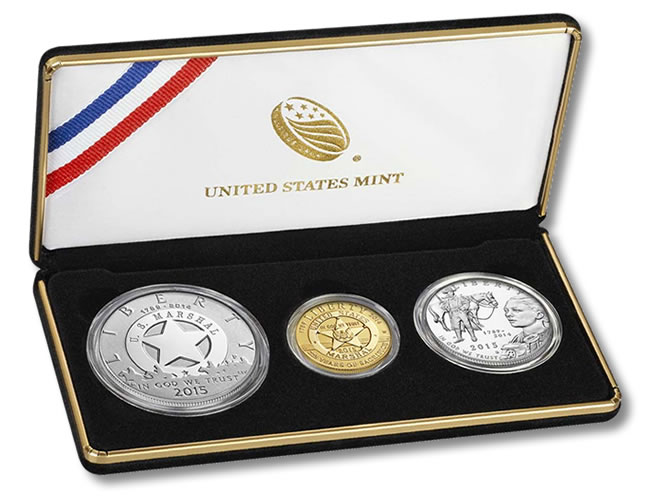 The pricing picture is now complete for all 2015 US Marshals 225th Anniversary Commemorative Coins which launch at noon ET on Thursday, Jan. 29.
Prices for the silver and clad issues were revealed last year. Prices for the gold coins are now known as well, although they won't be officially published by the United States Mint until Wednesday.
U.S. Mint numismatic gold coin prices are based on a weekly average of London gold fixings. That average is very comfortably within the range of $1,250.00 to $1,299.99 an ounce, which sets the opening prices of the US Marshals gold coins at $407.60 for the uncirculated and $412.60 for the proof.
Here is a mintage and pricing table for the U.S. Marshals 225th Anniversary Commemorative Coins and the set:
Mintages
Introductory Prices
Regular Prices
Proof 50c Clad Half-Dollar
750,000
$14.95
$18.95
Uncirculated 50c Clad Half-Dollar
$13.95
$17.95
Proof Silver Dollar
500,000
$46.95
$51.95
Uncirculated Silver Dollar
$43.95
$48.95
Proof $5 Gold Coins
100,000
$412.60
$417.60
Uncirculated $5 Gold Coins
$407.60
$412.60
Three-Coin Proof Set*
$473.60
$478.60
*The three-coin proof set is further limited by a product maximum of 15,000.
When released, the commemoratives may be ordered from the Mint's online store at www.usmint.gov/catalog.