British statesman Sir Winston Churchill, one of the legendary wartime leaders of the 20th century, is featured on the Royal Mint's third £20 silver coin that sells at face value.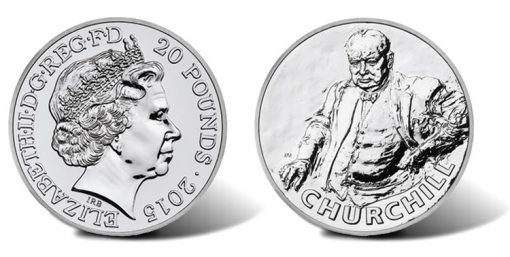 Struck in 15.71 grams of 99.9% fine silver and limited to a mintage of 200,000, the release seems poised to sell out just like the Mint's earlier two £20 for £20 silver coins.
This latest coin has extra significance, commemorating 50 years since Churchill passed in 1965.
"Sir Winston Churchill holds a significant place in Britain's history as a great leader, soldier, artist and writer, not only acting as Prime Minister on two occasions but also leading the country twice through the dark days of war," Shane Bissett, The Royal Mint's Director of Commemorative Coin, Bullion and Medals, said in a new release.

"His image, reputation and legacy are instantly recognizable all over the world, therefore it is only fitting that he takes pride of place on The Royal Mint's third £20 for £20 coin."
Designed by leading figurative sculptor Etienne Millner, the reverse or tails side of the coin was adapted from the celebrated photograph of Churchill captured by Yousuf Karsh in 1941. It includes the inscription CHURCHILL as well as the artist's initials EM. The other side bears the Ian Rank-Broadley effigy of Queen Elizabeth II with inscriptions of 20 POUNDS, 2015, ELIZABETH D G REG F D, and the artist's initials IRB.
Additional Specifications and Ordering
2015 £20 Sir Winston Churchill Silver Coins have a bit more than one-half ounce of silver, are minted to a diameter of 27.00 millimeters, and are produced in brilliant uncirculated finish.
Coins may be ordered from around the world using the Royal Mint's website at www.royalmint.com, with an affiliate link to its £20 coins here
. There is a limit of 10 coins per household.
Each coin is set within a presentation card that has an image of Sir Winston Churchill on the outside and information about the UK coin on the inside.
Past £20 for £20 Issues
The Royal Mint's first £20 for £20 silver coin featured Pistrucci's classic St George and the dragon design and was issued in 2013. The next in the series, released last year, marked the centenary of the outbreak of the First World War.
Each of these two coins had higher mintage limits of 250,000 pieces.