Big Ben, London's iconic clock tower which stands at the north end of the Palace of Westminster, is featured on the Royal Mint's first ever £100 silver coin that sells at face value.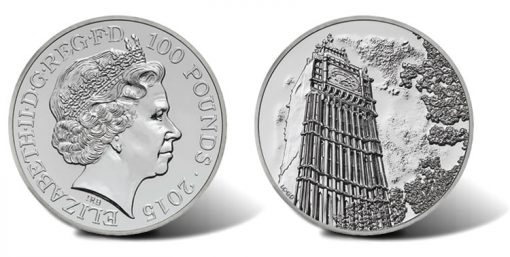 Similar to the Mint's £20 for £20 silver coins but larger in size and containing more silver, the new £100 for £100 coin is expected to attract traditional collectors and stir interest from those who have never collected coins.
Big Ben with its four clock faces is not only one of the most famous landmarks in England but it is also one of the few that is recognized around the world. Officially known as Elizabeth Tower and completed in 1859, the big clock started on May 31, with the main Great Bell heard for the first time on July 11 and the four quarter bells chiming for the first time on September 7.
Designed by Royal Mint engravers Glyn Davies and Laura Clancy, the reverse or tails side of the coin shows the Gothic-style tower from street level from the view of a person gazing up towards the sky. The other side bears the Ian Rank-Broadley effigy of Queen Elizabeth II.
2015 £100 Big Ben Silver Coins are struck in two ounces of 99.9% fine silver to a weight of 62.86 grams, a diameter of 40 millimeters and in a brilliant uncirculated finish.
Limited to 50,000, the coins are available from the Royal Mint website at www.royalmint.com.
Each is packaged within a cardboard sleeve with a colorful image of Big Ben on the outside and an image and history of the bell inside.