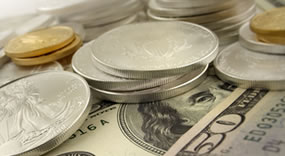 Gold prices fell for a third straight session on Friday but soaring gains on Tuesday positioned the precious metal for its 2.7% weekly advance.
Gold for February delivery on Friday shed $3.10, or 0.3%, to settle at $1,222.50 an ounce on the Comex division of the New York Mercantile Exchange. Falling oil prices and a stronger dollar pressured gold but losses were trimmed by safe-haven support as investors fled from stocks.
"When the equity markets dropped quite sharply, precious metals soared, so there is definitely still the link between equities and gold in particular (due to) risk appetite among market players," Reuters quoted Commerzbank analyst Daniel Briesemann. "Some of the equity markets had a decent run this year. We don't expect this to be continued to the same extent next year, so this might give some tailwind to gold prices."
On Thursday, gold prices slipped $3.80 after falling $2.60 on Wednesday but on Tuesday they jumped $37.10 and scored a more than six-week high at $1,239 an ounce. Gold has advanced in four of the last five weeks with its latest streak at two in a row. Moreover, the latest weekly increase drove prices back into the black for the year. They are up 1.7% from their 2013 closing of $1,202.30 an ounce.
Gold Outlook
The latest Kitco News gold survey weighs more bullish than bearish, which is opposite of the past two weeks. Ten survey takers expect gold to climb next week, 6 see prices falling and 5 see them trading sideways or are neutral. Kitco News reports:
"Those who see higher prices said the short-term trend for gold is firmer and they expect the metal will build on those gains… Those who see weaker prices said they don't believe gold will be able to continue to withstand the crumbling price of crude oil, which fell 10% this week… A few survey participants said they expect gold will stay in its current range, which is roughly between $1,215 and $1,240…"
Kitco's gold survey results last week had splits of 7 up, 10 down, and 4 sideways or neutral.
Silver, Platinum and Palladium Futures
In rounding out the precious metals complex on Friday and for the week:
Silver for March delivery fell 6 cents, or 0.3%, to $17.06 an ounce, but rallied 4.9% on the week.

January platinum declined $10.70, or 0.9%, to $1,231.50 an ounce, but climbed 1% from a week ago.

Palladium for March delivery lost $3.05, or 0.4%, to $816.55 an ounce, but advanced 1.7% on the week.
On the year to date, silver has tumbled 11.9%, platinum has declined 10.4%, and palladium has soared 13.7%.
London Fix Precious Metals
London precious metals edged higher on Friday and they mostly gained on the week. When comparing London bullion Fix prices from Thursday PM to Friday PM:
Gold added 75 cents to $1,217 an ounce,
Silver climbed 9 cents, or 0.5%, to $17.07 an ounce,
Platinum rose $1, or 0.1%, to $1,231 an ounce, and
Palladium also advanced $1, or 0.1%. It was fixed at $818 an ounce.
Platinum was unchanged from a week ago while the other metals logged weekly increases of 1.9% for gold, 4.5% for silver and 1.5% for palladium.
US Mint Bullion Coin Sales in December
United States Mint weekly bullion sales were stronger for silver coins but nonexistent for gold coins.
Silver coins advanced 906,500 ounces after gaining 867,000 ounces in the previous week. Splits this week were 901,000 ounces in American Silver Eagles compared to 821,500 ounces previously, and 5,500 ounces in America the Beautiful Five Ounce Silver Bullion Coins compared to 45,500 ounces previously.
American Silver Eagles are padding their sales record at 43,269,500 coins for the year so far. On Monday, Silver Eagle all-time sales topped 400 million and 2014 sales notched a new record by surpassing the old annual sales record set in 2013 at 42,675,000 coins.
Gold coin sales have dried up, not moving since a week ago when the Mint announced that it had completed production of the 2014-dated versions and that it would begin selling 2015-dated coins on Jan. 5.
Below is a sales breakdown of U.S. Mint bullion products with columns listing the number of bullion coins sold on Friday, last week, this week, last month, in December, and the year to date. Coins with an asterisk (*) have sold out.
American Eagle and Buffalo Bullion Sales (# of coins)
Friday Sales
Last Week
This Week
November Sales
December Sales
YTD Sales
$100 American Platinum Eagle Bullion Coins*
0
0
0
0
0
16,900
$50 American Eagle Bullion Gold Coins
0
12,000
0
49,000
12,000
414,500
$25 American Eagle Bullion Gold Coins
0
0
0
8,000
0
46,000
$10 American Eagle Bullion Gold Coins
0
6,000
0
12,000
6,000
118,000
$5 American Eagle Bullion Gold Coins
0
30,000
0
40,000
30,000
560,000
$50 American Buffalo Bullion Gold Coins
0
2,500
0
12,500
2,500
175,500
$1 American Eagle Silver Bullion Coins
100,000
821,500
901,000
3,426,000
1,722,500
43,269,500
Great Smoky Mountains National Park 5 Oz Silver Bullion Coins*
0
0
0
0
0
33,000
Shenandoah National Park 5 Oz Silver Bullion Coins
0
300
300
900
600
23,900
Arches National Park 5 Oz Silver Bullion Coins*
0
0
0
0
0
22,000
Great Sand Dunes 5 Oz Silver Bullion Coins
0
1,800
800
1,700
2,600
20,500
Everglades 5 Oz Silver Bullion Coins
0
7,000
0
27,000
7,000
34,000