The Royal Canadian Mint's Star Charts Glow-in-the-Dark series is proving popular with collectors. The Mint is promoting the silver series through a four-coin subscription and 91% of the 7,500 have sold.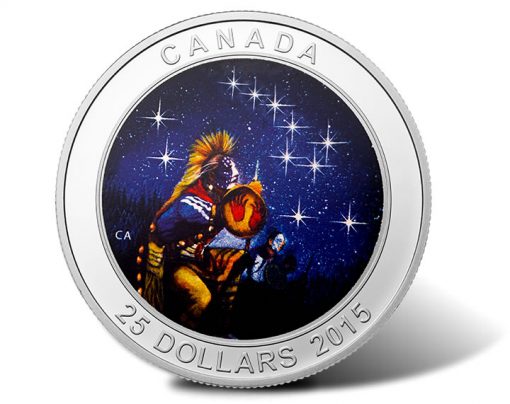 Undoubtedly, the unique subject matter, intriguing designs and a number of firsts for the Royal Canadian Mint have aided in the set's desirability.
"By far the most unique coins of the year. The combination of beautiful artwork, glow-in-the-dark on silver, storytelling and packaging make it a one of a kind must have," commented buyer Axl in a review about the series on the Mint's website.
As for the designs, they tell the First Nations legend pertaining to the origins of the Big Dipper star formation. According to the legend, the Big Dipper is a great bear who is pursued by three hunters. The scenes were created by Western Ojibwa artist Cyril Assiniboine. While each coin's design is different all four feature a glow-in-the-dark representation of the 7 stars in the Big Dipper. The Mint says the innovative treatment will never wear out.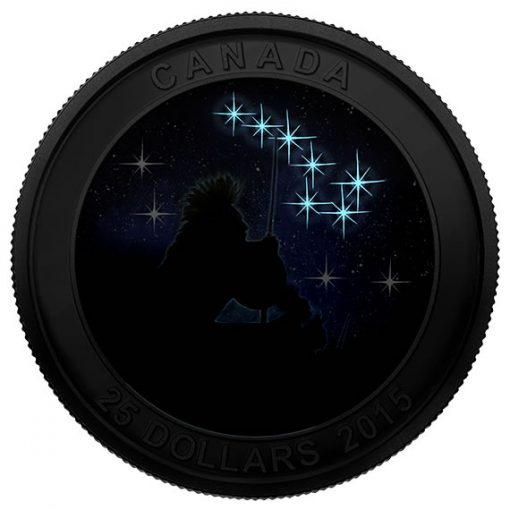 The Star Charts coin subscription opened in September with the 2015 $25 The Quest Silver Coin, which is shown in the two images above. It was the first silver coin from the Mint to showcase the glow-in-the-dark technology. The next issue, the 2015 $25 The Wounded Bear Silver Coin, debuted in November and is shown below.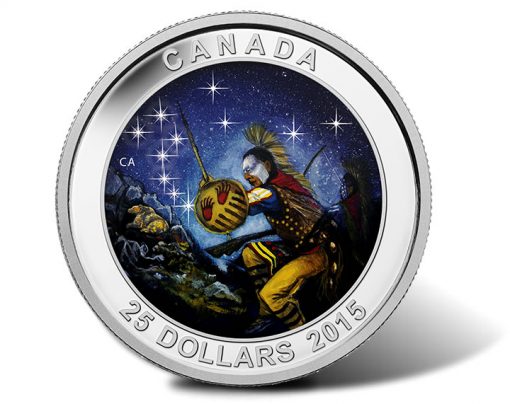 Upcoming coins include the 2015 $25 The Great Ascent Silver Coin and the 2015 $25 The Eternal Pursuit Silver Coin. They have scheduled release dates of February and April.
Specifications of the individual Star Charts coins include:
Star Charts Glow-in-the-Dark Silver Coin Specifications
| | |
| --- | --- |
| Mintage | 7,500 |
| Composition | 99.99% pure silver |
| Finish | proof |
| Weight (g) | 31.83 |
| Diameter (mm) | 40 |
| Edge | serrated |
| Certificate | serialized |
| Face Value (CAD) | $25 |
| Obverse Artist | Susanna Blunt |
| Reverse Artist | Cyril Assiniboine |
Each coin bears an obverse of Susanna Blunt's portrait of Queen Elizabeth II.
Ordering
Subscription orders for the 2015 Star Charts coins are accepted through the Royal Canadian Mint website at mint.ca. This affiliate link goes to the Mint's subscription page. Subscribers will be charged CAD $104.95, or about US $91.60, when each new coin ships.
In another first for the Mint, the presentation boxes for the coins depict the big dipper when viewed in the dark.