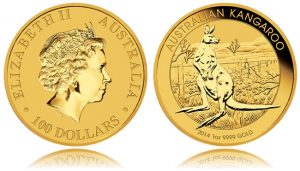 Australian sales of gold and silver weakened in October, down from the previous month and from the same time last year, new figures from the Perth Mint show.
Demand tapered even as gold and silver prices tumbled last month, conditions that lifted U.S. Mint bullion sales to multi-month highs.
Bullion Sales in October
Sales of Perth Mint gold coins and gold bars climbed by 55,350 ounces in October, off 19.5% from the previous month of 68,781 ounces and down 28.4% from October 2013 when 77,255 ounces sold. September did have an advantage with the release of the 2015-dated Australian Kangaroo Gold Bullion Coins. Investors and collectors like to get the newest coins, which tends to inflate sales around the time new issues are released. The month enjoyed gold sales that hit an 11-month high.
Sales of Perth Mint silver coins at 655,881 ounces in October dropped 13.3% from the 756,839 ounces in September and declined from a year earlier by 20.2% when 821,580 ounces sold. The drop is likely temporary. This month there should be an uptick in silver sales with the release of 2015-dated Australian Koala Silver Bullion Coins.
Perth Mint Gold and Silver Sales by Month
Below is a monthly breakdown of Perth Mint bullion sales from October 2013 to October 2014.
Perth Mint Bullion Sales (in troy ounces)
Silver
Gold
October 2014
655,881
55,350
September 2014
756,839
68,781
August 2014
818,856
36,369
July 2014
577,988
25,103
June 2014
586,358
39,405
May 2014
630,349
36,127
April 2014
361,988
23,461
March 2014
545,165
30,177
February 2014
392,088
47,003
January 2014
912,388
64,818
December 2013
845,941
58,944
November 2013
807,246
52,700
October 2013
821,580
77,255
Year-to-date sales are at 426,594 ounces for gold and 6,237,900 ounces for silver.
U.S. Mint Bullion Sales in October
U.S. Mint coin sales soared again in October. American Silver Eagle sales at 5.79 million ounces rallied 39.9% from September and leapt 87.6% from the same time last year. The month was the fourth highest in the coin's 29-year history and the firmest since January 2013.
American Gold Eagle sales at 67,500 ounces were the highest since January when the 2014-dated versions debuted. They climbed 16.4% from September and advanced 39.2% from the same period last year.
American Buffalo gold coins at 21,000 ounces were 44.8% higher than the previous month and 16.7% better than October 2013.
Finally, October sales of 2014 America the Beautiful Five Ounce Silver Bullion Coins at 25,500 ounces dropped 48% from the previous month and declined 22.7% from a year ago.