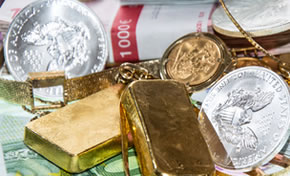 Gold finished lower for a second straight session Friday yet scored a second weekly gain after dropping in the prior five.
Gold for December delivery shed $2.20, or 0.2%, to settle at $1,239 an ounce on the Comex division of the New York Mercantile Exchange.
"Gold has had a good week because just about everything else has had a bad week," Reuters quoted Macquarie analyst Matthew Turner. "The rally has paused today, however, as the wider markets are wondering whether things really are quite as bad as they thought they were yesterday."
Gold advanced 1.4% on the week, notching a five-week high as recently as Wednesday when it extended a winning streak to three sessions on safe-haven demand and a flight from equities. Gold futures are 3.1% higher than their 2013 close of $1,202.30 an ounce.
Gold Outlook
Participants in the latest Kitco News survey tilt bearish for gold prices next week. Ten survey takers expect the yellow metal to fall, 8 see higher prices and 5 see prices trading sideways or are neutral. Kitco News reports:
"Those who see higher prices next week said they based their views in part because expectations for interest rate hikes have changed… Survey participants who see weaker prices said gold won't be able to build on this week's gains, especially since it couldn't get back over $1,250 an ounce… There were a few respondents who said gold prices need to consolidate after the bounce off $1,180 and the volatility seen in all financial markets this week…"
Participants last week were divided about gold prices after four straight weeks of bearish expectations. Kitco gold survey results last week had splits of 10 up, 9 down, and 4 sideways or neutral.
Silver, Platinum and Palladium Futures
Silver for December delivery declined 11 cents, or 0.6%, to end at $17.33 an ounce. Prices inched 0.2% higher than a week ago. They are off 10.5% on the year to date.
In PGM futures on Friday and for the week:
January platinum added $9.60, or 0.8%, to settle at $1,261.50 an ounce. It was about flat on the week, slipping a dime.

Palladium for December delivery jumped $10.70, or 1.4%, to $756.70 an ounce, but slid for a weekly loss of 3.6%.
For the year so far, platinum has declined 8.2% while palladium has climbed 5.3%.
London Fix Precious Metals
London precious metal fixings were mixed on Friday and for the week. When comparing London bullion Fix prices from Thursday PM to Friday PM:
Gold turned down $3.50, or 0.3%, to $1,234.25 an ounce,
Silver dipped 10 cents, or 0.6%, to $17.36,
Platinum gained $17, or 1.4%, to $1,259 an ounce, and
Palladium added $10, or 1.3%, to $753 an ounce
Weekly increases tallied to 1.3% for gold, 0.6% for silver, and 0.2% for platinum. Palladium tumbled 4%.
US Mint Bullion Coin Sales in October
Demand tapered this week for United States Mint bullion coins. Gold coin sales last week were the highest since mid-January when new 2014-dated Gold Eagle and Gold Buffalo coins sparked buying. Silver coin sales two weeks ago were the highest since the week when the 2014-dated American Silver Eagles launched on Jan. 13. Levels are well lower now. In the latest week-over-week comparisons:
Gold coins rose 15,500 ounces after soaring 36,500 ounces in the previous week. Splits were 9,500 ounces in American Gold Eagles compared to 28,000 ounces previously, and 6,000 ounces in American Gold Buffalos compared to 8,500 ounces previously.

Silver coins rose 587,500 ounces after gaining 874,000 ounces a week earlier. Splits were 580,000 ounces in American Silver Eagles compared to 870,000 ounces previously, and 7,500 ounces in America the Beautiful Five Ounce Silver Bullion Coin compared to 4,000 ounces previously.
Below is a sales breakdown of U.S. Mint bullion products with columns listing the number of bullion coins sold on Friday, last week, this week, last month, in October, and the year to date.
American Eagle and Buffalo Bullion Sales (# of coins)
Friday Sales
Last Week
Current Week
September Sales
October Sales
YTD Sales
$100 American Platinum Eagle Bullion Coins
N/A*
2,700
400
16,700
$50 American Eagle Bullion Gold Coins
4,500
24,500
6,500
50,500
35,000
331,000
$25 American Eagle Bullion Gold Coins
1,000
3,000
1,000
6,000
5,000
37,000
$10 American Eagle Bullion Gold Coins
2,000
6,000
2,000
8,000
8,000
100,000
$5 American Eagle Bullion Gold Coins
5,000
5,000
20,000
30,000
30,000
470,000
$50 American Buffalo Bullion Gold Coins
2,000
8,500
6,000
14,500
17,000
156,500
$1 American Eagle Silver Bullion Coins
50,000
870,000
580,000
4,140,000
3,100,000
35,351,000
Great Smoky Mountains National Park 5 Oz Silver Bullion Coins
0
0
0
3,500
0
33,000
Shenandoah National Park 5 Oz Silver Bullion Coins
0
0
0
1,000
0
21,500
Arches National Park 5 Oz Silver Bullion Coins
0
0
0
800
0
22,000
Great Sand Dunes 5 Oz Silver Bullion Coins
0
800
1,500
4,500
2,800
14,800
*The U.S. Mint stopped selling bullion Platinum Eagles on Oct. 1. The agency will begin selling 2015-dated issues in early January.