Today, Aug. 14, the United States Mint began selling the proof and uncirculated quality Lou Hoover First Spouse Gold Coins.
Designs on the $10 gold pieces celebrate Lou, wife of the 31st President of the United States, Herbert Hoover.
All spousal coins are minted from the U.S. Mint facility at West Point, NY, with each one struck in 0.5 ounces of .9999 pure gold. This series that honors wives of U.S. Presidents began in 2007. The 2014 line-up offers designs honoring:
Florence Harding, released July 10
Grace Coolidge, released July 17
Lou Hoover, released today
Anna Eleanor Roosevelt, to be released September 4
Coin Designs
For this Lou Hoover release, two designs won out among nine design proposals that included four obverses and five reverses.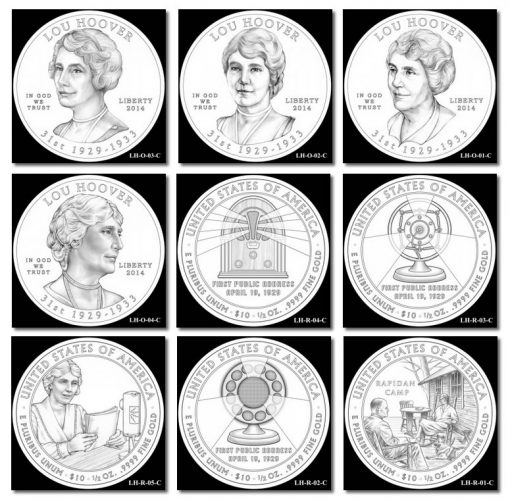 The selected obverse design, crafted by Susan Gamble and sculpted by Michael Gaudioso, features a portrait of the first lady with surrounding inscriptions of: LOU HOOVER, IN GOD WE TRUST, LIBERTY, 2014, 31st, 1929 – 1933, and the mint mark of W.
Reverses, designed by Richard Masters and executed by Jim Licaretz, show a 1920s-era radio, representing Mrs. Hoover achievement of being the first, First Lady to deliver a public radio address. Reverse inscriptions read, UNITED STATES OF AMERICA, E PLURIBUS UNUM, $10, 1/2 OZ., and .9999 FINE GOLD. The words FIRST PUBLIC ADDRESS APRIL 19, 1929 also appear under the radio.
Ordering and Pricing
Lou Hoover First Spouse Gold Coins open at a price of $845 for the uncirculated and $865 for the proof. These prices are subject to change as the gold market goes up or down. Initial prices are based on a weekly average of gold that is within the $1,300.00 to $1,349.99 range.
Like other recent series issues, Lou Hoover coins have a 10,000 mintage limit. Early sales numbers will determine if the U.S. Mint will actually produce all 10,000 coins.
Collectors who are interested in owning one of the coins can visit the Mint's website located here. Orders may also be placed by calling 1-800-USA-MINT (872-6468).
All First Spouse Gold Coins ship in highly polished, dome-chested, lacquered hardwood presentation cases. A certificate of authenticity is also included.
Lou Hoover Bronze Medals
The U.S. Mint also strikes medal duplicates of the gold coins. Lou Hoover First Spouse Bronze Medals are not sold individually, but will be available this year in two sets.
The Hoover $1 Coin and Medal Set, scheduled to launch on Oct. 16 for $9.95, will include one Herbert Hoover Presidential $1 Coin as well as one Lou Hoover First Spouse Bronze Medal. The 2014 First Spouse Medal Set will include one of the First Spouse Bronze Medals produced during 2014. Its price and release date are yet to be announced.
About Lou Hoover
Lou Henry was born March 29, 1874 in Waterloo, Iowa. She grew up a bit of a tomboy, according to accounts, enjoyed camping trips, hunting and even practicing some taxidermy.
Lou attended San Jose Normal School, now San Jose State University. She enrolled at Stanford University in 1894 as the school's only female geology major. While attending school, she met Herbert Hoover and they were married in 1899.