New from the Bureau of Engraving and Printing (BEP) is its 2014 Air Force Intaglio Print, the fourth of five cards from the Defenders of Freedom series. Each of the previous prints sold out. (Coin News Update: This latest print has sold out as well.)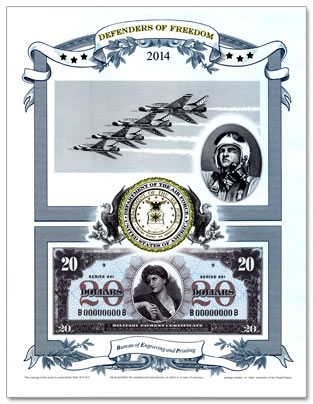 This year's series celebrates the five branches of the United States Armed Forces — Army, Navy, Marines, Air Force and Coast Guard. Last year's Ideals in Allegory series celebrated the female allegorical figures symbolizing peace, justice, and liberty.
"This print features an exquisite compilation of unique engraved vignettes focusing on the age-old art of intaglio printing," describes the Bureau of Engraving.
Officially entitled 2014 Intaglio Print Defenders of Freedom Air Force, it measures 8 1/2" x 11" and costs $22.50. The latest Defenders of Freedom print features four major decorative elements — three vignettes and a seal. Descriptions of the vignettes follow.
Top and centered is the vignette Four Aircraft in Flight (Miscellaneous Die #17620). Engraved by Charles A. Brooks in 1966, the vignette features four F-100 Super-Sabre jet fighters shown flying in formation.

To the right and slightly below the four fighters is the vignette Head of Pilot (Miscellaneous Die #17606). Also engraved by Charles A. Brooks in 1966, it features the face of an Air Force pilot with flying helmet, visor and oxygen mask.

Centered at the bottom is the vignette Female Head (Miscellaneous Die #4262). Engraved by Franklin T. Howe, Jr. in 1896, the vignette features the face design of the Series 661 $20 Military Payment Certificate that was issued in October 1968 and withdrawn in August 1969.
Separating the topmost and bottom vignettes, printed in offset and embossed in gold foil is the seal of the United States Air Force. A banner towards the card's top has the words: DEFENDERS OF FREEDOM while one near the bottom reads: Bureau of Engraving and Printing.
Ordering and Subscription Discount
Place orders for the 2014 Air Force Intaglio Print by visiting the BEP's online store at www.moneyfactorystore.gov.
Past and Upcoming Intaglio Prints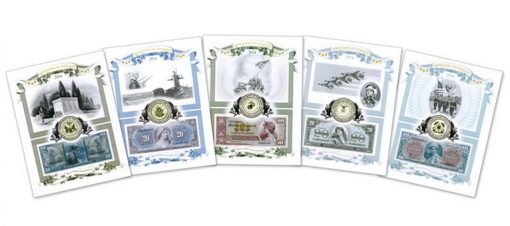 Past and upcoming Intaglio Prints in the Defenders of Freedom series include:
Army launched on February 27, 2014
Navy launched on April 14, 2014
Marines launched on June 16, 2014
Air Force launched on Aug. 5, 2014
Coast Guard will launch on Sept. 22, 2014
About the BEP
While the Bureau of Engraving and Printing makes and sells detailed intaglio prints and engravings, it is best known for producing United States currency. The bureau prints billions of Federal Reserve Notes each year for delivery to the Federal Reserve System. These notes are produced at facilities in Washington, DC, and Fort Worth, Texas.