This afternoon the United States Mint announced that for safety reasons it has suspended in-person sales of dual-dated 1964-2014 Proof 50th Anniversary Kennedy Half-Dollar Gold Coins. It also addressed questions about the Mint's ability to meet demand for the coins.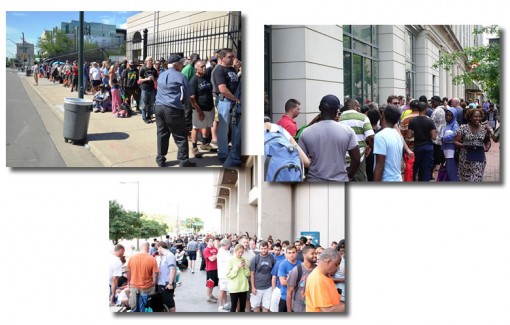 Sites of the sales suspension were first limited to the three retail locations in Philadelphia, Denver and Washington, D.C., with the Mint saying the decision was made to:
"Ensure the safety of those wanting to purchase the coin and the safety of its own employees."
Later in the day, with the same reasons cited and in a joint annoucment with the American Numismatic Association, the sales suspension was extended to the 2014 ANA World's Fair of Money in Rosemont, Illinois.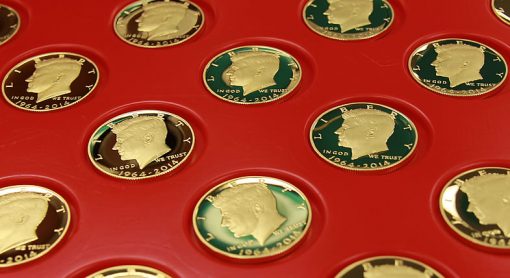 The U.S. Mint had planned to offer 500 coins each day at the ANA money convention, and 100 coins on Friday at the three Mint retail locations. The U.S. Mint at all locations will continue to sell its other products, including the 50th Anniversary Kennedy Half-Dollar Uncirculated Coin Set.
Kennedy gold coins launched on Tuesday, Aug. 5, and saw intense demand and very long lines for those wanting to get coins immediately. The Mint had allocated a number of Kennedy gold coins at each location, and limited in-person orders to one coin. First day sales of the strike reached 56,694 coins and another 5,006 sold on the second day for a two-day total of 61,700.
| | | | |
| --- | --- | --- | --- |
| | First Day Sales | Second Day Sales | Total Sales |
| Chicago ANA Show | 493 | 488 | 981 |
| Philadelphia | 500 | 100 | 600 |
| Denver | 500 | 100 | 600 |
| Washington, DC | 376 | 228 | 604 |
| Online/Call Centers | 54,825 | 4,090 | 58,915 |
| Total | 56,694 | 5,006 | 61,700 |
Prior information from the Mint indicated that it had 40,000 of the Kennedy gold coins on hand and ready for delivery on opening day. However, with that initial inventory more than accounted for with the flurry of sales, what does the Mint have planned?
According to the Mint, it has all the necessary raw materials to initially produce 75,000 of the coins. In addition, it will continue to procure more materials, as needed, to fulfill demand.
"The Mint is very proud to have produced over 40,000 of these beautiful coins," said United States Mint Deputy Director Dick Peterson. "We will continue to produce 6,000 of the coins per week for the next several weeks and continue to assess demand. We are committed to maximizing access to these products."
1964-2014 Proof 50th Anniversary Kennedy Gold Coins are still available for purchase directly from the United States Mint website via the coin's product page, located here, or by calling 1-800-USA-MINT (872-6468). Current pricing is 1,240.
Each Kennedy gold coin is struck to proof quality from three-quarters ounce of 99.99% pure gold and issued to commemorate the 50th anniversary of the Kennedy half-dollar. The obverse or heads side features a restored version of United States Mint Chief Engraver Gilroy Roberts' portrait of Kennedy and the reverse or tails side has United States Mint Sculptor-Engraver Frank Gasparro's version of the Presidential Seal.