An 1861 $10 Demand Note from Philadelphia, just one of three known and with the enhanced desirability of a serial number 1, was recently graded by Paper Money Guaranty (PMG).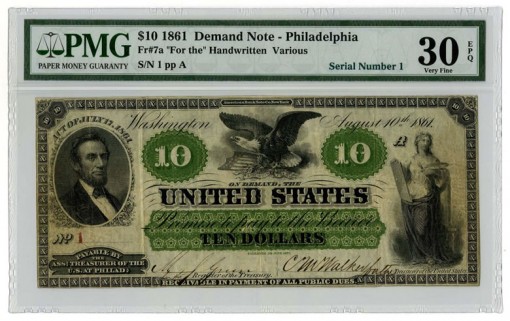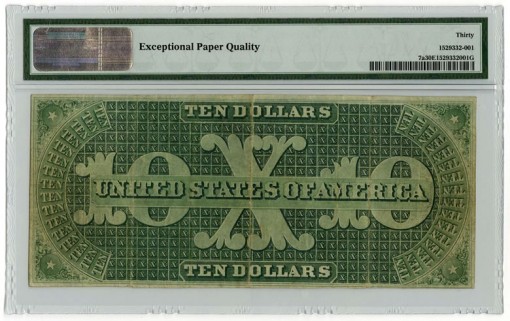 Graded PMG 30 EPQ and cataloged as Friedberg 7a, the note was last seen publicly in an auction by Sotheby's in 1970.
"We could not be more thrilled to see this note after it has been off the market for more than four decades," said Paper Money Guaranty Finalizer, Chad Hawk. We are honored to have been selected to grade such an important piece of history."
This rarity, featuring vibrant color and signatures, will cross the auction block as the highlight in Heritage Auctions' ANA currency sale held Aug. 5- 11.
"The high quality signatures bring nice detail to the 'for the' inscriptions that still look impeccable over 150 years later," describes PMG. "As one of the first $10 'Greenbacks' issued by the United States in 1861 to fund the Union's campaign during the Civil War, its significance in American history nearly goes unmatched among US currency."
About Paper Money Guaranty
Founded in 2005, PMG is the world's most comprehensive third-party paper money grading and encapsulation service. PMG has established the industry's highest standards of integrity, and the company's dedication to consistent and accurate grading has helped PMG become the world's largest, most trusted note grading service.