Martin Luther King Jr. and his wife Coretta Scott King were posthumously awarded the Congressional Gold Medal Tuesday, June 24, 2014. Associated with that event, the United States Mint began selling bronze 3-inch and 1.5-inch replicas of the medal to the public.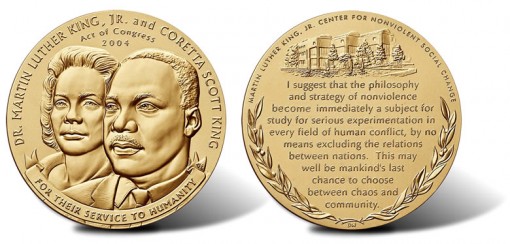 The gold medal was awarded to the Kings in recognition of their contributions to the Nation on behalf of the civil rights movement. Founding director of the Smithsonian National Museum of African American History and Culture, Lonnie Bunch, accepted the gold medal on behalf of the King family at a special ceremony to commemorate the 50th anniversary of the Civil Rights Act. The medal will be housed at the museum.
"With the acquisition of this medal, the museum will ensure that the Kings' courage, impact and legacy will be honored, preserved and remembered," said Bunch. "There are few things as noble as honoring all of our ancestors by remembering."
Also in attendance were Bernice A. King and her brothers, Martin Luther King III and Dexter Scott King. Congressman John Lewis, D-Ga., Congressional Black Caucus Chair Marcia L. Fudge, D-Ohio, and other members of Congress were present as well.
"We gather here in the Capitol to honor Dr. Martin Luther King Jr. and his beloved wife, Coretta Scott King," said Rep. John Lewis. "Often history remembers speeches of facts and figures, but I cannot forget their love. From their union came an enduring strength that carried many of us through the darkest days of the movement."
The Congressional Gold Medal is the highest civilian award bestowed by Congress. In 2004, legislation authorizing the medal passed Congress and was signed into law, Public Law 108-368. It was to be awarded to Coretta Scott King but she became ill and passed away. Earlier this year, new legislation was introduced and became law, Public Law 113-118, authorizing the medal's transfer to the Smithsonian Institution.
Shown on the medal's obverse is a portrait of Dr. King and his wife, Coretta. Inscriptions include FOR THEIR SERVICE TO HUMANITY, DR. MARTIN LUTHER KING, JR., CORETTA SCOTT KING and ACT OF CONGRESS 2004.
The reverse offers an image of the Martin Luther King, Jr. Center for Nonviolent Social Change. An inscription below is reflective of Dr. King's belief in social change without violence. It states:
"I suggest that the philosophy and strategy of nonviolence become immediately a subject for study for serious experimentation in every field of human conflict, by no means excluding the relations between nations. This may well be mankind's last chance to choose between chaos and community."
Bronze replicas of the Martin Luther King, Jr. and Coretta Scott King Congressional Gold Medal may be purchased directly from the United States Mint via its online catalog located here, or by calling 1-800-USA-MINT (872-6468). Pricing of the 3-inch medal is $39.95 with the 1.5-inch version sold for $6.95.
This year the U.S. Mint also issued two silver dollars to commemorate the 50th anniversary of the enactment of the Civil Rights Act of 1964. These commemorative coins are available through this U.S. Mint online page. The proof silver dollar is priced at $54.95 and the uncirculated silver dollar is listed for $49.95.
The U.S. Mint will also soon offer a special Civil Rights Act of 1964 Tell Your Story Set that includes one of the commemorative silver dollars and a space to share personal stories about events leading up to, or how they have been affected by, the passage of the Civil Rights Act of 1964.