New this month from the Perth Mint of Australia is a proof silver coin depicting an Australian Spider-Hunting Scorpion.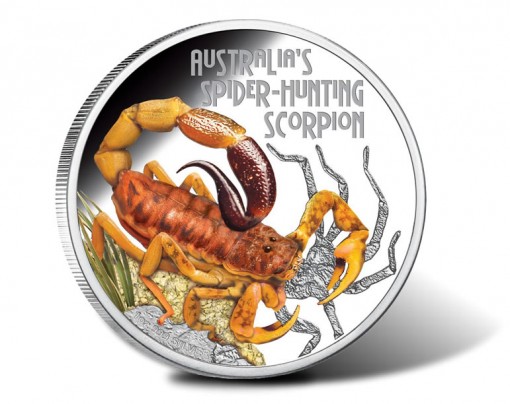 Offered as the ninth release in the Australian Deadly and Dangerous series, which debuted in 2006 with each annual issue selling out, the scorpion is shown in color with a spider in its grasp.
These 8-legged spiders with long venomous stingers are known throughout the world, living on all major land masses except Antarctica. Fossils of the ancient creatures have been found dating back several hundred million years. There are over 1,000 species of scorpions but only 25 of them are known to have venom that is deadly to humans. The venom is used to paralyze prey and as a defense against predators.
Australian Deadly and Dangerous Series – Specifications, Releases and Mintages
Coins of the Australian Deadly and Dangerous Series are composed from one ounce of 99.9% pure silver to a weight of 31.135 grams, a diameter of 40.6 mm and a thickness of 4 mm. Past coins of the series, by year, include:
2006 Red-Back Spider 1oz Silver Proof Coin
2007 Great White Shark 1oz Silver Proof Coin
2008 Blue Ringed Octopus 1oz Silver Proof Coin
2009 Saltwater Crocodile 1oz Silver Proof Coin
2010 Eastern Brown Snake 1oz Silver Proof Coin
2011 Australia's Box Jellyfish 1oz Silver Proof Coin
2012 Funnel Web Spider 1oz Silver Proof Coin
2013 Yellow-Bellied Sea Snake1oz Silver Proof Coin
All have color reverses, are struck to collector proof quality, and have limited mintages of 5,000.
2014 Spider-Hunting Scorpion Silver Proof Coin
Reverses of this latest coin feature a colored Australian Spider-Hunting Scorpion resting on grass and gravel, preying on a struck spider. Surrounding inscriptions read: AUSTRALIA'S SPIDER-HUNTING SCORPION, 1 OZ 999 SILVER.
Obverses bear Ian Rank-Broadley's effigy of Her Majesty Queen Elizabeth II with inscriptions of QUEEN ELIZABETH II, 1 DOLLAR, TUVALU AND 2014. These coins are issued as legal tender of the Government of Tuvalu.
Pricing of the 2014 Spider-Hunting Scorpion Silver Proof Coin is listed as AUS $90, or US $83.81. Orders may be placed directly from The Perth Mint website at http://www.perthmint.com.au. An affiliate link to Mint's new silver coins follows:
Ad Banner to New Perth Mint Silver Coins

Coins arrive in a high-gloss timber display case with a shipper emblazoned with the warning DANGER. Each is accompanied by a numbered Certificate of Authenticity.