The fourth issue of the Perth Mint of Australia's Doctor Who Monsters series is now available with the release of the 2014 Silurians 1/2 oz Silver Proof Coin.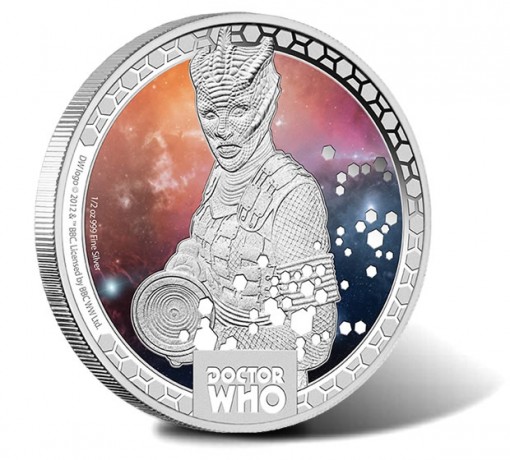 Each coin is composed of one-half ounce of 99.9% pure silver and has a limited mintage of 5,000. Offered on the reverse is a colored image depicting a Silurian.
"The Silurians were the dominant life-form on Earth before the evolution of humanity," describes the Perth Mint of Australia website on the coin's product page. "Whilst honorable warriors, they often found co-habitation with humanity impossible, due to war-like factions on both sides."
The Doctor Who Monsters series is scheduled to include a total of five coins, each depicting a different memorable foe from the Doctor Who television series. Those five issues include:
Doctor Who is produced in Great Britain by the BBC and is described as the longest running and most successful science fiction television series of all time. Doctor Who Monsters coins are released in collaboration between BBC Worldwide Australia & New Zealand, and the New Zealand Mint.
Silurians Silver Proof Coin Design and Specifications
The reverse of the Silurians Silver Proof Coin bears the likeness of one of the creatures. They are described in the television series as an advanced race of reptilian humanoids that were the dominant life-form on Earth before the evolution of humanity.
A finely struck border surrounds the image which also has a color background. Reverse inscriptions read: DOCTOR WHO, 1/2 oz 999 SILVER, and DW logo © 2012 & ™ BBC. Licensed by BBC WW Ltd.
These coins are struck as legal tender of the South Pacific island nation of Niue. The face value is NIUE $1 and indicated on the obverse with inscriptions of NIUE and ONE DOLLAR. These surround the Ian Rank-Broadley effigy of Queen Elizabeth II along with inscriptions of ELIZABETH II and 2014.
2014 Doctor Who Monsters – Silurians Silver Coin Specifications
| | |
| --- | --- |
| Silver Content (Troy oz) | 0.5 |
| Monetary Denomination (NIUE) | 1 |
| Fineness (% purity) | 99.9 |
| Minimum Gross Weight (g) | 15.591 |
| Maximum Diameter (mm) | 32.60 |
| Maximum Thickness (mm) | 3.10 |
| Maximum Mintage | 5,000 |
A classic Doctor Who blue display case is included with each purchase along with an illustrated shipper and a numbered certificate of authenticity.
Pricing of the 2014 Silurian 1/2 oz Silver Proof Coin is now listed as AUS $68.18, or US $63.68. Orders may be placed directly from The Perth Mint website at http://www.perthmint.com.au. An affiliate link to Mint's new silver coins follows:
Ad Banner to New Perth Mint Silver Coins

This series appears as part of a celebration for the 50th anniversary of the Doctor Who television program.