A new series of coins celebrating the art, culture and history of the First Nations debuted from the Royal Canadian Mint this month. Entitled The Seven Sacred Teachings, the series includes seven 99.99% fine silver coins with selective gold plating.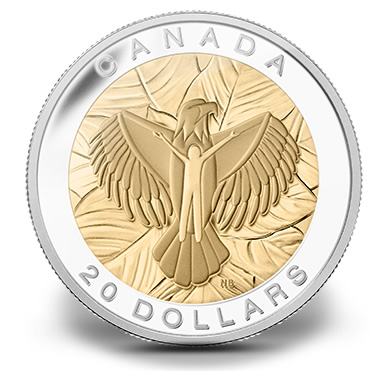 These coins include the following themes and release dates:
Love (April 1, 2014)
Respect (May 6, 2014)
Courage (June 3, 2014)
Honesty (July 2, 2014)
Wisdom (August 5, 2014)
Humility (September 2, 2014)
Truth (October 7, 2014)
Each $20 silver coin features a reverse design by Canadian artist Nathalie Bertin. Shown on the first coin is a design based on the Sacred Teaching of Love.
"Love is one of the Seven Sacred Teachings that honor the traditional concepts of respect and sharing that are the cornerstones of Aboriginal life," describes the Royal Canadian Mint. "While variations of these teachings do exist throughout North America, this diversity only enriches them and underscores the universality of their wisdom."
Reverses offer the subtle shape of a heart created by an eagle's wings and tail feathers. These design elements are highlighted with selective gold plating.
Around the image, the inscriptions of CANADA and 20 DOLLARS is seen. Bertin's initials appear just below the eagle.
Coins of the The Seven Sacred Teachings series are struck as legal tender of Canada and offer Susanna Blunt's effigy of Queen Elizabeth II on the obverse. The portrait of the Queen is also featured with selective gold plating. Obverse inscriptions include ELIZABETH II, 2014, 9999 and FINE SILVER 1 OZ ARGENT PUR.
Coin specifications include:
Mintage: 7,000 per coin
Composition: fine silver (99.99% pure) with selective gold plating
Finish: proof
Weight: 31.83 grams
Diameter: 40 mm
Edge: serrated
Certificate: serialized
Face value: 20 dollars
Reverse Artist: Nathalie Bertin
Obverse Artist: Susanna Blunt
Ordering
The Seven Sacred Teachings coins launch each month from April to October. A series subscription is also available. Subscription enrollees will be guaranteed coins in the limited mintage series with each issue billed and shipped automatically as they are released.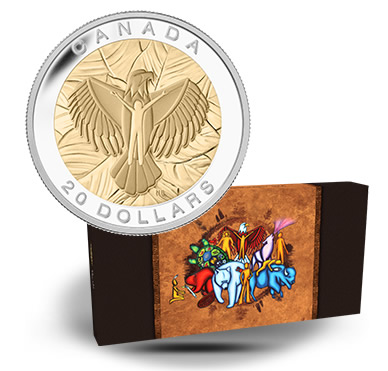 A subscription or the individual Love coin can be purchased directly from the Royal Canadian Mint website at mint.ca. Individual coin pricing is currently CAD $109.95, or US $100.95. An affiliate link to the Mint's product page for First Nation-themed coins is right here.
Each coin ships in a Royal Canadian Mint display case with an illustrated shipper. Subscription purchases include a seven-coin display case.