Already capturing 55 bids at GreatCollections with the latest topping $31,000, a rare proof Platinum Eagle "Frosted Freedom" variety crosses the auction block on Sunday, April 27, 2014.
This $25 quarter-ounce proof error, struck at the West Point Mint in 2007, has the word FREEDOM in frosted type instead of the brilliant mirror finish found on non-error coins.
"What's special about this variety is that the U.S. Mint acknowledged how they were produced and how they inadvertently distributed the error coins to buyers at random," said Ian Russell, President/founder of GreatCollections
The Frosted Freedom variety was discovered in 2011 on a one ounce proof Platinum Eagle. The United States Mint later confirmed a potential population of 54 in varying sizes — 12 in one ounce ($100 denomination), 21 in half ounce ($50 denomination) and 21 in quarter ounce ($25 denomination).
This example for auction at GreatCollections is only the second one found in the quarter-ounce size, and the only coin graded by PCGS for any of the three sizes. It is graded PCGS Proof-70 DCAM.
About 2007-W Proof Platinum Eagles
Numismatic 2007 Platinum Eagles bear the second design from the U.S. Mint's three-year series entitled, "The Foundations of American Democracy. Reverses from the series are emblematic of the three branches of the United States government — the legislative (2006), executive (2007), and judicial (2008).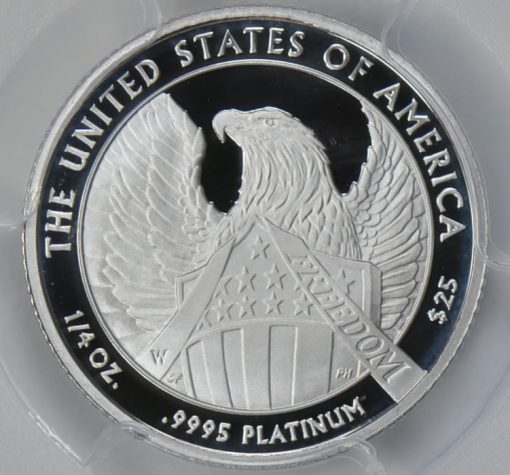 As seen in the image above, compliments of GreatCollections, the 2007 reverse shows Phebe Hemphill's design of a bald eagle with its wings spread wide to represent freedom with a shield at the ready to enforce the laws that guarantee those freedoms. Inscriptions include THE UNITED STATES OF AMERICA, 1/2 OZ., .9995 PLATINUM, the coin's denomination, and the West Point "W" mint mark and the word FREEDOM on banners draped over the shield.
Departing from the original design, the U.S. Mint decided that the word FREEDOM was not prominent enough and changed the finish of the letters at the last minute from frosted to brilliant and mirror-like.
U.S. Mint reported final sales of numismatic 2007 Proof Platinum Eagles follow:
Final US Mint Sales of 2007-W Proof American Platinum Eagle Coins
SALES (UNITS)
FINAL SALES (COINS)
1 oz
3,768
8,363
1/2 oz
1,341
5,936
1/4 oz
1,422
6,017
1/10 oz
3,581
8,176
4-Coin Set
4,595
N/A
Totals
14,707
28,492
Russell noted that the 2007 $25 Platinum Eagle Frosted Freedom variety is being sold unreserved. Bids for it and other rare coins may be placed online at www.greatcollections.com.