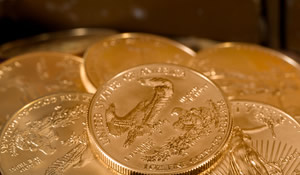 Precious metals advanced Friday, led by gold which jumped over $1,300 an ounce and forward to a 0.7% weekly gain.
Sales levels of U.S. Mint bullion products were strong as well, with demand sharply higher for gold coins after several sluggish weeks.
Gold for June delivery on Friday rallied $18.90, or 1.5%, to settle at $1,303.50 an ounce on the Comex division of the New York Mercantile Exchange. U.S. jobs data came in a bit below expectations, supporting gains.
"The (jobs) numbers are OK but they are not the boost that the policymakers had been hoping for, so the Fed will have to keep interest rates low for a considerable period of time, and that's what's been supporting gold," Reuters quoted Axel Merk, chief investment officer at California-based Merk Funds, a firm with more than $400 million in currency mutual fund assets.
U.S. employers added 192,000 jobs in March and economists were looking closer to a 200,000 mark.
Gold Outlook and YTD Gains
A majority of participants in the latest Kitco News Gold Survey see higher prices next week, opposite of expectations that had been voiced for this week. Eleven forecast higher gold prices while 5 see them lower and 2 see them to sideways to unchanged.
"A correction was overdue, given the geopolitical premium in the price in early March, but now the correction has run its course," Kitco News quoted Adrian Day, president and chief executive officer of Adrian Day Asset Management. "Yellen's comments were misunderstood, and Yellen herself has backtracked. Gold is due for a rally."
Gold prices on the year so far have jumped $101.20, or 8.4%, above the 2013 closing of $1,202.30 an ounce.
Silver, Platinum and Palladium Futures
Silver grew a tad more than gold this week, up 0.8%, while platinum surged 3.1% and palladium advanced 2.2%. In the breakdowns on Friday:
Silver for May delivery gained 14 cents, or 0.7%, to finish at $19.95 an ounce.

July platinum ended at $1,450.90 an ounce, rising $5.40 or 0.4%.

Palladium for June delivery added $1.90, or 0.2%, to close at $790.75 an ounce.
For the year to date, palladium is ahead 10.1%. Platinum is running 5.6% quicker and silver has tacked on 3% since the end of last year.
London Fix Precious Metals
London precious metals also advanced on Friday and for the week. When comparing the London fix prices from Thursday PM to Friday PM:
Gold gained $13.25, or 1%, to $1,297.25 an ounce,
Silver added a dime, or 0.5%, to $19.93 an ounce,
Platinum turned up $8, or 0.6%, to $1,444 an ounce, and
Palladium rose $1, or 0.1%, to $789 an ounce
Increases on the week include 0.2% for gold, 1.1% for silver, 3.1% for platinum and 2.3% for palladium.
US Mint Bullion Coin Sales in March
U.S. Mint bullion sales continued at a fast pace for silver coins and gold coins turned up from a slow March. Sales this week of the Mint's Gold Buffalo and Gold Eagle coins are already at more than half of last month's totals. For the week-over-week bullion sales comparisons:
In the fourth full week of release after a five-year hiatus, American Platinum Eagles added 800 after rising 500 in the prior week. That places the total at 10,300 or nearly a third of the 2008 annual total of 33,700 ounces when the coins were last available.

Gold coin sales surged 19,000 ounces against last week's 5,500 ounces. Splits were 12,000 ounces in American Gold Eagles compared to 3,500 ounces previously, and 7,000 ounces in American Gold Buffalo coins versus 2,000 ounces previously.

American Silver Eagle sales rose 1,171,000 versus last week's 1,192,500. The coins passed year-to-date sales of 14 million on Tuesday, one day after ending March with more than 5.3 million — the fourth highest monthly total in history.

America the Beautiful Five Ounce Silver Bullion Coins added 2,800 after rising last week by 1,700. In related coin news, on Monday the U.S. Mint will release the collectible version of the five ounce Great Smoky Mountains silver coin. It is the first of five uncirculated issues for this year.
Below is a sales breakdown across U.S. Mint bullion products with columns offering the number of bullion coins sold on Friday, last week, this week, last month, the month-to-date, and the year-to-date.
American Eagle and Buffalo Bullion Sales (# of coins)
Friday Sales
Sales Last Week
Sales This Week
March Sales
April Sales
YTD Sales
$100 American Platinum Eagle Coins
100
500
800
10,000
300
10,300
$50 American Eagle Gold Coins
4,500
3,000
10,000
16,000
9,000
109,500
$25 American Eagle Gold Coins
0
0
1,000
2,000
1,000
18,000
$10 American Eagle Gold Coins
0
0
2,000
4,000
2,000
44,000
$5 American Eagle Gold Coins
0
5,000
10,000
30,000
10,000
250,000
$50 American Buffalo Gold Coins
500
2,000
7,000
12,000
7,000
72,500
$1 American Silver Eagle Coins
0
1,192,500
1,171,000
5,354,000
293,000
14,172,000
Great Smoky Mountains National Park 5 Oz Bullion Coins
0
1,700
2,800
12,400
2,600
15,000