For the very first time, the Bureau of Engraving and Printing (BEP) is selling uncut currency sheets of newly designed $100 notes.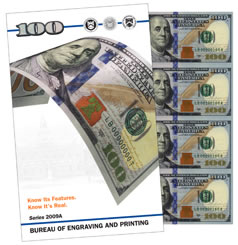 Series 2009A $100 uncut currency sheets launch at 8:00 a.m. EST on Thursday, Feb. 27, 2014. Product options include sheets in sizes of four $100s, eight $100s and sixteen $100s.
Pricing of the three options are yet to be unveiled but they will include premiums. The BEP is already selling Series 2009A currency sheets of $1s, $2s, $5s, $10s, $20s and $50s. Based on their premiums, pricing of $100s should range from around $450 for a four subject sheet to about $1,710 for the 16 subject sheet. (This coin news article will get updated when prices become available.)
Coin News Update: The price of the four-subject sheet is $480, the eight-subject sheet is $920 and the sixteen-subject sheet it $1,776.
The newly designed $100s entered circulation on Oct. 8, 2013 and feature several added security measures. Among those are two advanced elements for counterfeit protection — a blue 3D Security Ribbon and a Bell in the InkWell.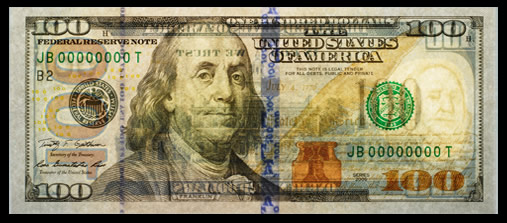 Micro-images of bells and 100s seem to switch back and forth on the 3D ribbon as the note is shifted. This ribbon is not printed on the paper, but instead is woven into it. The color-shifting bell changes from copper to green when tilted, causing the bell to "disappear" from view.
All of the $100 notes from the uncut currency sheets have the designation of the Federal Reserve Bank of Atlanta. Each bears the signatures of Treasurer of the United States Rosie Rios and former U.S. Department of the Treasury Secretary Timothy Geithner.
On release day, sheets may be ordered from the BEP's website at http://www.moneyfactorystore.gov/uncutcurrency.aspx.
About the BEP
The Bureau of Engraving and Printing is the nation's producer of security documents. Among those are Federal Reserve Notes which the BEP prints for delivery to the Federal Reserve System.