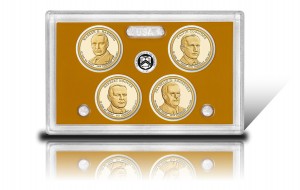 Presidents Day reminds everyone about former presidents even though the holiday is officially recognized by the U.S. government as "Washington's Birthday."
In keeping with the mood, Americans can own new collectibles honoring four past presidents with the release of the 2014 Presidential $1 Coin Proof Set on Tuesday, Feb. 18, at noon EST.
Produced by the United States Mint and sold for $18.95, or $17.05 by subscription, the proof sets are in the eighth year of issue after beginning in 2007. The features of this year's include Presidential $1 Coins with portraits and inscriptions as follows:
WARREN G. HARDING, IN GOD WE TRUST, 29th PRESIDENT and 1921 – 1923. (Designed and sculpted by Michael Gaudioso.)

CALVIN COOLIDGE, IN GOD WE TRUST, 30th PRESIDENT and 1923 – 1929. (Designed and sculpted by Phebe Hemphill.)

HERBERT HOOVER, IN GOD WE TRUST, 31st PRESIDENT and 1929 – 1933. (Designed and sculpted by Phebe Hemphill.)

FRANKLIN D. ROOSEVELT, IN GOD WE TRUST, 32nd PRESIDENT and 1933 – 1945. (Designed and sculpted by Joseph Menna.)
The image of the Statue of Liberty that appears on the reverse side of these and all Presidential $1 Coins was designed and sculpted by Don Everhart. (Read about the 2014 dollar designs.)

Proof dollar coins are stuck and packaged at the San Francisco Mint facility. Each Presidential dollar bears the SF Mint mint mark, an "S" that is etched on its edge along with "E Pluribus Unum" and "2014." Every coin is, as the name of the set implies, in proof quality.
"United States Mint proof coins are extraordinarily bright, with sharp relief and a mirror-like background. Their frosted, sculpted foregrounds give them a special cameo effect," the United States Mint describes.

"Proof blanks are specially treated, polished and cleaned to ensure high quality strikes. The blanks are then fed into presses fitted with specially polished dies and struck at least twice to ensure sharp relief."
Presidential dollars have a blended composition of 6% zinc, 3.5% manganese, 2% nickel with the remaining balance copper. Each dollar weighs 8.1 grams and has a diameter of 26.49 mm (1.043 inches).
Presidential $1 Coin Sets are housed in a carton which is decorated on the front with line art images of the four presidents along with what the U.S. Mint describes as a ghosted image of the White House. The back of the carton shows a portrait of the presidents along with an image of their respective coin.
Ordering the 2014 Presidential $1 Coin Proof Set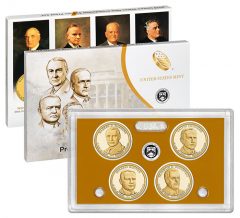 Collectors who are interested in ordering the 2014 Presidential $1 Coin Proof Set can log on to the United States Mint's website at www.usmint.gov or call the Mint at 1-800-USA-MINT (872-6468). The U.S. Mint's online page for dollar coins is at:
There are no ordering or mintage limits on this product.
10% Subscription Discount
Those who subscribed to receive the 2014 Presidential $1 Coin Proof Set automatically will receive a 10% discount. That brings the price down $1.90 to $17.05. For more information about the Mint's Online Subscription Program, visit its subscription page.
Upcoming Proof Presidential Dollar Products
These same 2014 proof Presidential dollars are within two other annual sets this year, the clad 2014 United States Mint Proof Set scheduled for release on March 25 for $31.95 and the 2014 United States Mint Silver Proof Set scheduled for release in May for $53.95.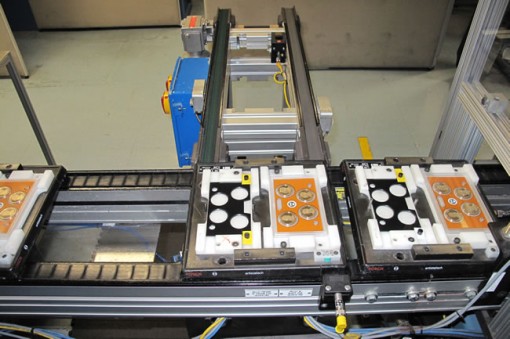 These upcoming sets have 14 coins in total, with the others being the five 2014 America the Beautiful Quarters, the Lincoln cent, Jefferson nickel, Roosevelt dime, Kennedy half-dollar and the 2014 Native American $1 Coins.