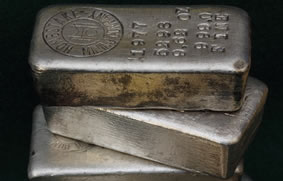 Gold closed lower Monday, albeit modestly, for the first time this year. Prices rebounded from a quick and unexpected early morning tumble which briefly halted trading.
Gold for February delivery dipped 60 cents to close at $1,238 an ounce on the Comex division of the New York Mercantile Exchange. Gold prices traded from a low of $1,212.60 to a high of $1,247.70. Last week, gold advanced 2%.
"Gold prices ended the U.S. day session about where they began it — near unchanged levels. However, a sudden, big spike down in prices at mid-morning created yet another buzz in the market," said Jim Wyckoff, a senior analyst at Kitco Inc, in a daily note.

Wyckoff added: "The CME Group said an erroneous trade in Comex gold futures was not responsible for the February gold contract dropping sharply — by over $30.00 an ounce — in a very short period of time and briefly halting trading action at the Comex at mid-morning Monday. Reports said very heavy volume at the time of the price drop was recorded in gold futures — 4,000 contracts in one second's time, which could have been a big 'fund' trader taking a long futures trade off the table."
Silver also fell for the first time in three sessions with futures for March delivery slipping 11 cents, or 0.5%, to $20.10 an ounce. Prices ranged from $19.95 to $20.36. Silver climbed 0.8% last week.
Platinum and palladium, however, extended their winning streaks to four sessions. In their daily breakdowns:
April platinum gained $2.20, or 0.2%, to $1,416.40 an ounce, trading between $1,390.10 and $1,423.80.

Palladium for March delivery added $7.30, or 1%, to $738.50 an ounce, ranging from $726.95 to $739.
Last week, platinum rose 2.6% and palladium rallied 2.7%.
London Fix Precious Metals
London precious metals fixings were mixed. In contrasting the London fix prices from Friday PM to Monday PM:
Gold gained $11.75, or 1%, to $1,246.25 an ounce,
Silver fell 14 cents, or 0.7%, to $20.04 an ounce,
Platinum added $5, or 0.4%, to $1,409 an ounce, and
Palladium turned up $5, or 0.7%, to $733 an ounce
Gains across the precious metals last week totaled 1.6% for gold, 1.3% for silver, 2.2% for platinum and 2.4% for palladium.
US Mint Bullion Sales
There have not been United States Mint bullion sales to report for more than a week, though orders for gold coins have been taken. The U.S. Mint on Thursday, Jan. 2, began selling its 2014 American Eagle gold coins and 2014 American Buffalo gold coins. The bureau is yet to publish their starting sales, which are expected to be strong. Below is a snapshot on how bullion coins performed in December and in 2013.
American Eagle and Buffalo Bullion Sales (# of coins)
December Sales
2013 Sales
$50 American Eagle Gold Bullion Coins
53,500
743,500
$25 American Eagle Gold Bullion Coins
0
58,000
$10 American Eagle Gold Bullion Coins
4,000
122,000
$5 American Eagle Gold Bullion Coins
15,000
535,000
$50 American Buffalo Gold Bullion Coins
7,000
239,000
White Mountain 5 oz. Silver Bullion Coins
4,300
35,000
Perry's Victory 5 oz. Silver Bullion Coins
30,000
Great Basin 5 oz. Silver Bullion Coins
30,000
Fort McHenry 5 oz. Silver Bullion Coins
30,000
Mount Rushmore 5 oz. Silver Bullion Coins
35,000
American Eagle Silver Bullion Coins
1,200,000
42,675,000
The first 2014-dated silver bullion coins, the American Silver Eagles, will not be available until Jan. 13, 2014.