Available now as the eleventh issue in a series with a quick sell-out history is the 2014 $20 Canada Goose Silver Coin. This release is offered as the Royal Canadian Mint's first 2014-dated $20 silver coin that is sold at face value.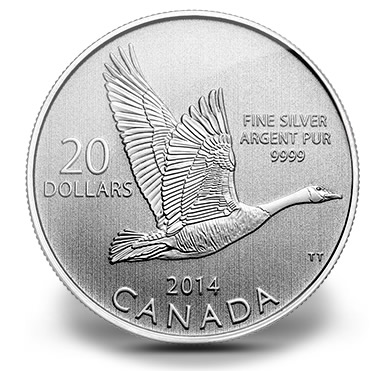 Coins of the program are sought for their 99.99% pure silver content, unique designs, proven popularity and because they are sold for their legal tender face value of $20.
Canada Goose Silver Coin Designs
Found on the reverse of the newest $20 for $20 coin is a single Canada goose. Designed by Canadian artist Trevor Tennant, it shows the bird in flight. Inscriptions surrounding the goose include '20 DOLLARS', 'ARGENT PUR FINE SILVER 9999', 'CANADA' and '2014.' Tennant's initials are shown to the bottom right.
On the obverse, Susanna Blunt's effigy of Queen Elizabeth II appears. Obverse inscriptions include 'ELIZABETH II' and 'D.G. REGINA.'
Mintages
Like the past two releases, the 2014 $20 Canada Goose Silver Coin has a mintage limit of 225,000. The first coin depicting maple leafs had a lower mintage of 200,000 and sold out in 29 days, triggering an increased 250,000 mintage for the next seven coins. More recent coins have taken longer to sellout, which may explain the reduced 225,000 mintage. Also and perhaps at least slightly related, the silver values of the coins have fallen with silver prices.
$20 for $20 Silver Coin Specifications and Silver Melt Values
$20 for $20 coins are struck from 99.99% silver to a weight of 7.96 grams and a diameter of 27 mm. The weight of each totals to just over one-quarter troy ounce of silver.
At the current silver spot of $20.15 an ounce, coins of the series have a melt value of about $5.16. In contrast, the first $20 coin launched in 2011 when silver was near $30 an ounce. At that level, the coins had a silver melt value of $7.68.
Past and Upcoming $20 for $20 Silver Coins
In addition to the newest Canada Goose Silver Coin, the Mint's program of $20 for $20 coins has included:
2011 $20 Maple Leaf
2011 $20 Canoe
2012 $20 Polar Bear
2012 $20 Queen's Diamond Jubilee
2012 $20 Farewell to the Penny
2012 $20 Magical Reindeer
2013 $20 Hockey
2013 $20 Wolf
2013 $20 Iceberg
2013 $20 Santa
All past coins sold out. The 2014 series is scheduled to include four coins. Subsequent designs and release months are:
Bobcat – March 2014
Summertime – May 2014
Holiday Candles – October 2014
Ordering Information
Ordering information and additional details for the 2014 Canada Goose Silver Coin can be found on the Royal Canadian Mint website. An affiliate link to the Mint's page of $20 for $20 silver coins is right here
. Orders are limited to three coins per household.
$20 for $20 Coin Subscription
Interested individuals may also enroll in the 2014 Silver $20 for $20 Coin Subscription. Under the program, the Mint will ship the 2014 $20 for $20 silver coins as they are issued.