This week the United States Mint officially revealed the reverse design for next year's Native American $1 coin. Its theme is, "Native Hospitality Ensured the Success of the Lewis and Clark Expedition."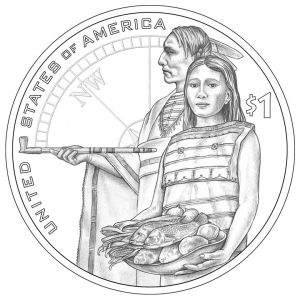 The dollar series sports annually changing reverses. For 2014, the design by Chris Costello depicts a Native American man offering a pipe while standing behind his wife as she offers provisions of fish, corn, roots and gourds. Shown in the background is a stylized image of the face of Captain William Clark's compass, highlighting the northwest quadrant of the Lewis and Clark Expedition. Inscriptions surrounding the scene read UNITED STATES OF AMERICA and $1. Joseph Menna sculpted Costello's design.
This latest dollar represents the sixth since the series began in 2009. Designs celebrate the important contributions made by Indian tribes and individual Native Americans to the development and history of the United States. The Native American dollar series was enacted by Congressional legislation in 2007, called The Native American $1 Coin Act and numbered Public Law 110-82. Previous designs featured the following themes:
2009 – Three Sisters of Agriculture (depicting a Native American woman planting seeds of corn, beans and squash)
2010 – Great Tree of Peace and the Iroquois Confederacy (showcasing a Hiawatha Belt with five arrows bound together)
2011 – Great Wampanoag Nation (showing hands of the Supreme Sachem Ousamequin Massasoit and Governor John Carver)
2012 – Trade Routes in the 17th Century (illustrating a Native American and his horse in the foreground with running horses in the background)
2013 – The Delaware Treaty of 1778 (displaying a turkey, a howling wolf, and a turtle, all symbols of the clans of the Delaware Tribe, with a string of thirteen stars surrounding the design)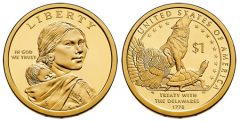 All Native American $1 Coins share a common obverse, featuring Sacagawea and her baby, by Glenna Goodacre. Sacagawea was a hardworking member of Meriwether Lewis and Captain William Clark's expedition team. Obverse inscriptions are LIBERTY and IN GOD WE TRUST.
Edge inscriptions show the year, mint mark, and E PLURIBUS UNUM.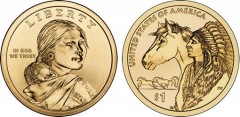 Composition breakdowns of the dollars are 88.5% copper, 6% zinc, 3.5% manganese and 2% nickel. Each weighs 8.1 grams, has a diameter of 26.49 mm and a thickness of 2.00 mm. Their color is golden.
These clad coins will not enter circulation in the traditional way, passing through the Federal Reserve Bank's system. Instead, they will be sold as numismatic products directly from the U.S. Mint.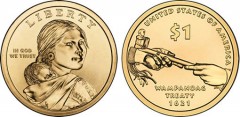 All are, however, legal tender coins. That means they can be used in regular commerce. Typically, the U.S. Mint debuts the coins early in the year.
The United States Mint will offer several versions of the 2014 Native American dollars. In the past, there have been circulation quality strikes from the U.S. Mint facility in Philadelphia, with a mint mark of 'P', and the U.S. Mint facility in Denver, with a mint mark of 'D'. These will be available in bags, rolls, and boxes.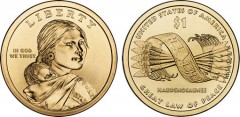 Collector quality dollars with uncirculated finishes are also minted in those facilities. They are often included in annual sets such as the Mint Set and Uncirculated $1 Coin Set.
Some strikes are produced at the U.S. Mint facility in San Francisco and bear the 'S' mint mark. They are included in annual sets such as the Proof Set and Silver Proof Set.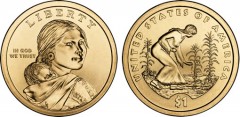 Here is a sampling of sets that the coins will be released within next year:
2014 Proof Set,
2014 Silver Proof Set,
2014 Mint Set,
2014 Presidential $1 Coin Proof Set,
2014 Presidential $1 Coin Uncirculated Set,
2014 Annual Uncirculated Dollar Coin Set,
2014 Presidential $1 Coin Covers and
2014 Presidential $1 Coin and First Spouse Medal Sets
Each of these products, when released, will be on the U.S. Mint product page located here.