A limited-edition Girl Scouts of the USA Young Collectors Set is now available for $54.95. Released at noon today by the United States Mint, the set has an uncirculated Girl Scouts Silver Dollar that is presented within special packaging.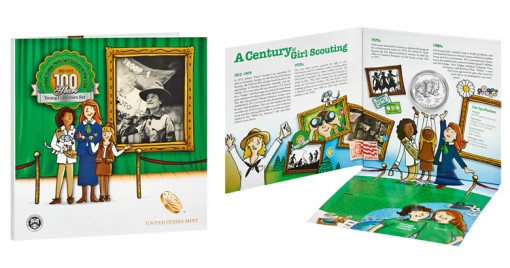 The set debuts five months after the launch of the individual proof and uncirculated 2013 Girl Scouts of the USA Centennial Silver Dollars. Its price is less than what the uncirculated coin costs by itself.
Each Girl Scouts of the USA Young Collectors Set has one of the uncirculated silver dollars in a tri-fold presentation folder with "Mint Kids" and other colorful characters who walk the reader through highlights and milestones of the organization's first 100 years.
Like other commemorative sets of late, the Girl Scouts Young Collectors Set is limited to 50,000, but there are no household ordering restrictions. Sales of this new product count toward the 350,000 mintage limit of the 2013 Girl Scouts Silver Dollars. According to the most recent sales figures from the U.S. Mint, collectors have purchased 78,912 of the individually sold proof silver dollars, priced at $59.95, and 29,196 of the uncirculated silver dollars, which are $55.95. A total of 108,108 commemoratives have sold since they launched on February 28, 2013.
The Girl Scouts organization focuses on building character skills for success. On the heads side of each silver dollar is a depiction of three girls of varying ages and diversity. Across the top are the inscriptions, COURAGE, CONFIDENCE, and CHARACTER, which are key elements of the Girl Scouts mission statement.
Below the girls is the 100th anniversary Trefoil symbol. Reverses offer the iconic logo known as Profiles of Girl Scouts of the USA, an image that is commonly promoted throughout the club. Every commemorative coin sold has a $10 surcharge that is collected for Girl Scout program development and delivery.
Girl Scouts of the USA Young Collectors Sets as well as the individual silver dollars may be ordered directly from the United States Mint website, found here, or through the customer service department at 1-800-USA-MINT (872-6468).