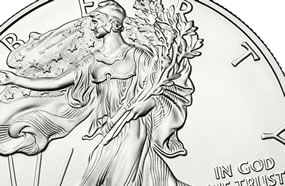 Gold advanced for the fifth time in six sessions Monday, closing to a more than three-week high.
Gold for August delivery edged up $5.90, or 0.5%, to settle at $1,283.50 an ounce on the Comex in New York. The settlement price was the highest since June 21 when gold finished at $1,292.00 an ounce. Gold prices traded through an intraday range of $1,272.50 and $1,293.60.
"Gold is way oversold," MarketWatch quoted David Beahm, executive vice president at precious-metals investment firm Blanchard & Co. "That, paired with Bernanke's comments last week which were remarkably different from his comments he made two weeks ago, are bullish for gold."

"It is clear that the United States economy is not as healthy as the Fed chairman had hoped for and this will lead to more quantitative easing," said Beahm.
Gold prices soared last week by $64.90, or 5.4%, marking the biggest weekly gain since October 2011. Even with the latest increases, however, the precious metal is down on the year by $392.30, or 23.4%.
"Since Bernanke's speech, there's been more of a question mark as to when the Fed begins tapering stimulus," David Meger, the director of metal trading at Vision Financial Markets in Chicago, said in a telephone interview according to Bloomberg News. "We're back to a data-dependent mentality, and anything that shows a weaker economy is going to be supportive."
U.S. retail sales climbed 0.4% in June, commerce department data showed Monday. The level was well short of the 0.8% increase many economists had expected. Additionally, May was revised to 0.5% from 0.6% up-tick initially reported. The referenced Bernanke bullish-interpreted comments came last Wednesday after the monthly release of FOMC meeting minutes. Bullion investors are looking ahead to the Fed chairman's Congressional testimony on Wednesday and Thursday for additional economic and stimulus signals.
In other precious metals futures in New York on Monday:
Silver for September delivery added 4.7 cents, or 0.2% to $19.84 an ounce, ranging from $19.54 and $20.14. It also marked a streak of five gains in six sessions.

October platinum settled up $14.50, or 1%, to $1,421.40 an ounce, trading between $1,407 and $1,425.30.

Palladium notched gains for sixth straight sessions with September futures jumping $9.25, or 1.3%, to $732.15 an ounce. Palladium ranged from $721.45 to $734.55.
Increases in the metals last week totaled 5.6% for silver, 6.1% for platinum and 6.7% for palladium.
London Fix Precious Metals
London precious metals fixings also advanced to begin the week. In contrasting the Friday PM to Monday PM London fixings:
Gold rose slightly by $5, or 0.4%, to $1,284.75 an ounce,
Silver rose 16 cents, or 0.8%, to $19.82 an ounce,
Platinum added $7, or 0.5%, to $1,410 an ounce, and
Palladium gained $8, or 1.1%, to $724 an ounce
Last week's bullion gains in London tallied to 5.5% for gold, 1.8% for silver, 5.7% for platinum and 7% for palladium.
US Bullion Coin Sales in July
Sales totals for United States Mint bullion products on Monday rose modestly for gold coins and strongly for silver coins, similar to last week's overall gains. For the day, U.S. Mint distributors claimed 2,000 ounces in gold coins and 881,000 ounces in silver coins. The latter amount is already higher than last week's solid total of 856,500 ounces.
In the latest milestone for American Silver Eagle bullion coins, year-to-date sales rallied above the 27 million mark to 27,575,000. Only four years have been higher through all 12 of their months, and that goes back to the series debut in 1986. Those years include:
2011 with annual sales of 39,868,500
2010 with annual sales of 34,662,500
2012 with annual sales of 33,742,500
2009 with annual sales of 28,766,500
When the annual Silver Eagle sales record happened in 2011, it took until August 22, 2011 for sales to top where they stand now.
The following table offers daily, July and year-to-date bullion coin totals as published by the U.S. Mint on its website.
American Eagle and Buffalo Bullion Coin Sales
Monday / Week-To-Date Sales
Last Week
July Sales
YTD Sales
$50 American Eagle Gold Bullion Coins
0
5,000
20,000
564,500
$25 American Eagle Gold Bullion Coins
0
0
4,000
47,000
$10 American Eagle Gold Bullion Coins
0
2,000
4,000
90,000
$5 American Eagle Gold Bullion Coins
5,000
0
20,000
435,000
$50 American Buffalo Gold Bullion Coins
1,500
6,000
13,000
174,500
White Mountain 5 oz. Silver Bullion Coins
0
800
1,800
28,800
Perry's Victory 5 oz. Silver Bullion Coins
0
2,400
3,400
17,600
Great Basin 5 oz. Silver Bullion Coins
1,200
2,000
7,500
17,400
American Silver Eagle Bullion Coins
875,000
830,500
2,531,500
27,575,000
Figures above are in the number of coins sold, not in ounces.