Released by the Bureau of Engraving and Printing (BEP) today is the 2013 Justice Intaglio Print, the second of three cards in the Ideals in Allegory series.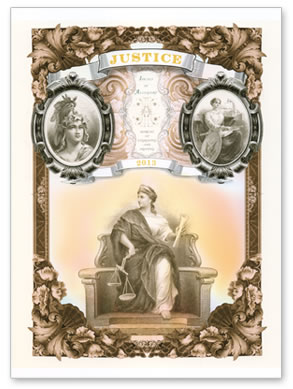 This year's series is dedicated to female allegorical figures representing peace, justice and liberty.
"This print Justice features an exquisite compilation of unique engraved allegorical vignettes focusing on the age-old art of intaglio printing," describes the Bureau of Engraving and Printing.
Priced at $22.50 and measuring 8 1/2" x 11", the Justice Intaglio Print features three major decorative designs. As seen to the left, right and toward the bottom of the card:
To the left is the Vignette/Head of America (Miscellaneous Die #9560) as engraved by John T. Guilfoyle, 1918.

To the right is Vignette/Justice (Miscellaneous Die #7032) as engraved by Marcus W. Baldwin.

At the bottom center is Vignette/Justice – (Miscellaneous Die #7289) as engraved by Fredrick Pauling, 1909.
Collectors can find the earlier 2013 Peace Intaglio Print and the new 2013 Justice Intaglio Print at www.moneyfactorystore.gov.
Other 2013 Intaglio Prints in the Ideals in Allegory series include:
Peace, released on June 3, 2013
Liberty, which is scheduled with a release date of August 13, 2013, the start day for the ANA's World's Fair of Money in Rosemont, Illinois
About the Bureau of Engraving and Printing
The Bureau of Engraving and Printing is the largest producer of security documents in the United States. The bureau prints billions of Federal Reserve Notes for delivery to the Federal Reserve System each year. These notes are produced at facilities in Washington, DC, and Fort Worth, Texas.