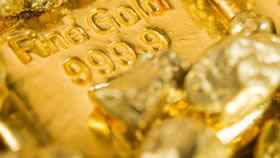 Gold closed lower Thursday, and then added to losses in electronic trade as prices dropped to below $1,200 an ounce.
In its settlement on the trading floor, gold for August delivery declined $18.20, or 1.5%, to $1,211.60 an ounce on the Comex in New York. After-hours trading had the precious metal down at $1,196.10 an ounce before rebounding toward the $1,200 mark. Prices at either level had not been seen since August 2010.
"When the market gets into a trend, people just want to follow it, and now we're in a severe downtrend, so the psychology has become terrible," Donald Selkin, who helps manage $3 billion of assets as chief market strategist at National Securities Corp., said in a telephone interview relayed on Bloomberg News. "If any of the big holders that are still in the ETF start getting forced to sell, it could be big, a wild card."
Silver tracked gold, though off modestly at its close. Silver for September delivery — now the new most-active contract — lost 6 cents, or 0.3%, to $18.55 an ounce. The precious metal later traded toward $18.33 an ounce but then returned near its settlement.
Bucking the downward trends, PGM's registered robust gains:
October platinum gained $21.70, or 1.7%, to $1,329.10 an ounce, trading between $1,304.20 and $1,332.70.

September palladium soared $17.45, or 2.8%, to $650.70 an ounce, ranging from $629.40 and $657.70.
London Fix Precious Metals
London precious metals fixings ended lower. In contrasting the Wednesday PM to Thursday PM London Fix prices:
Gold shed $3.50, or 03%, to $1,232.75 an ounce,
Silver dipped 6 cents, or 0.3%, to $18.61 an ounce,
Platinum declined $11, or 0.8%, to $1,318 an ounce, and
Palladium fell $9, or 1.4%, to $643 an ounce
US Bullion Coin Sales in June
After a strong start earlier this week, sales totals for United States Mint bullion coins were unchanged for a second day. The following are daily, June and year-to-date bullion coin totals as provided by the United States Mint.
American Eagle and Buffalo Bullion Coin Sales
Thursday Sales
Last Week
Week-To-Date Sales
June Sales
YTD Sales
$50 American Eagle Gold Bullion Coins
0
19,000
4,500
41,000
536,500
$25 American Eagle Gold Bullion Coins
0
0
0
0
42,000
$10 American Eagle Gold Bullion Coins
0
4,000
2,000
6,000
84,000
$5 American Eagle Gold Bullion Coins
0
0
0
45,000
405,000
$50 American Buffalo Gold Bullion Coins
0
3,000
2,500
12,500
157,000
White Mountain 5 oz. Silver Bullion Coins
0
0
0
1,200
27,000
Perry's Victory 5 oz. Silver Bullion Coins
0
300
0
14,200
14,200
Great Basin 5 oz. Silver Bullion Coins
0
0
9,900
9,900
9,900
American Silver Eagle Bullion Coins
0
800,000
847,000
3,275,000
25,043,500
Figures above are in the number of coins sold, not in ounces.