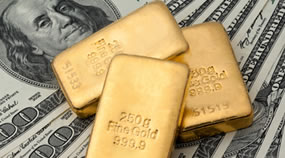 Gold and silver tumbled to nearly three-year lows Wednesday as investors focused on equities and the U.S. dollar climbed against other world currencies.
Gold for August delivery declined $45.30, or 3.6%, to settle at $1,229.80 an ounce on the Comex in New York. The closing price was the lowest for gold since August 2010. The yellow metal traded through intraday levels of $1,223.20 and $1,277.50.
"The raft of figures that came out of the U.S. all pointed to a stronger growth pattern, which pushed the dollar higher," David Lennox, an analyst at Fat Prophets, said from Sydney, according to Bloomberg News. "That's two nails in the coffin for gold: a stronger U.S. dollar and expectations that quantitative easing will be scaled back."
Gold prices have fallen $446, or 26.6%, since closing to $1,675.80 an ounce at the end of 2012. The precious metal is off $691, or 36%, from the all-time high of $1,921.15 an ounce notched in September 2011.
"We bought gold for two reasons — because we were worried about the inflationary impact of policy and because we thought the financial system was going to fall apart," Reuters quoted Sean Corrigan, chief investment strategist at Diapason Commodities Management. "Although it may be completely the wrong judgment, the market has decided that none of those at the moment is a concern," Corrigan said.
Silver for July delivery sank 93.9 cents, or 4.8%, to $18.59 an ounce — also the lowest settlement since August 2010. Prices ranged from $18.36 to $19.58. Silver prices so far this year have dived $11.64, or 38.5%.
In PGM future prices on Wednesday:
Platinum for October delivery — now the new most-active contract — fell $46.70, or 3.5%, to $1,307.40 an ounce. Prices traded between $1,305.60 and $1,354.60.

September palladium lost $35.55, or 5.3%, to $633.25 an ounce, ranging from $631.50 and $667.50.
London Fix Precious Metals
London precious metals fixings were sharply lower as well. In contrasting the Tuesday PM to Wednesday PM London Fix prices:
Gold declined $42.75, or 3.3%, to $1,236.25 an ounce,
Silver plunged $1.10, or 5.6%, to $18.67 an ounce,
Platinum lost $20, or 1.5%, to $1,329 an ounce, and
Palladium plummeted $20, or 3%, to $652 an ounce
US Bullion Coin Sales in June
Sales totals for U.S. Mint bullion coins were unchanged Wednesday. Distributor demand is already higher this week for silver coins with sales at 896,500 ounces compared to last week's total of 801,500 ounces. Gold coins will need to move quicker as sales so far this week are at 7,500 ounces compared to last week's 23,000 ounces.
The following are daily, June and year-to-date bullion coin totals as provided by the United States Mint.
American Eagle and Buffalo Bullion Coin Sales
Wednesday Sales
Last Week
Week-To-Date Sales
June Sales
YTD Sales
$50 American Eagle Gold Bullion Coins
0
19,000
4,500
41,000
536,500
$25 American Eagle Gold Bullion Coins
0
0
0
0
42,000
$10 American Eagle Gold Bullion Coins
0
4,000
2,000
6,000
84,000
$5 American Eagle Gold Bullion Coins
0
0
0
45,000
405,000
$50 American Buffalo Gold Bullion Coins
0
3,000
2,500
12,500
157,000
White Mountain 5 oz. Silver Bullion Coins
0
0
0
1,200
27,000
Perry's Victory 5 oz. Silver Bullion Coins
0
300
0
14,200
14,200
Great Basin 5 oz. Silver Bullion Coins
0
0
9,900
9,900
9,900
American Silver Eagle Bullion Coins
0
800,000
847,000
3,275,000
25,043,500
Figures above are in the number of coins sold, not in ounces.