An 1891 $1,000 Marcy Silver Certificate sold Wednesday, June 12, for a new world record price of $2.6 million, Stack's Bowers Galleries has announced.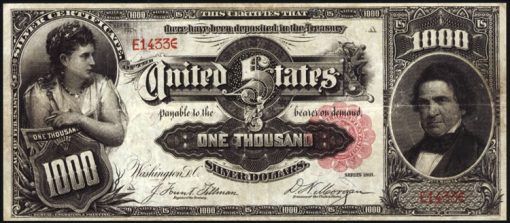 Graded Very Fine 25 by PMG, the $1,000 note is one of two known to exist, with the other held in the National Numismatic Collection at the Smithsonian Institution.
On the front and to the right of the note is a depiction of William L. Marcy, a U.S. Senator, the 11th Governor of New York and Cabinet member holding positions of Secretary of War and Secretary of State. On the back of the note are the boldly emblazoned words SILVER, CERTIFICATE, UNITED STATES and 1000.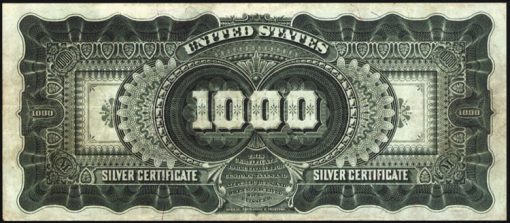 This 1891 $1,000 Marcy Silver Certificate was purchased from a collector who wishes to remain anonymous and was sold to an anonymous buyer.
It is a part of a collection of more than 85 large-size Silver Certificates that are the finest ever formed, five of which have been sold privately by Stack's Bowers Galleries.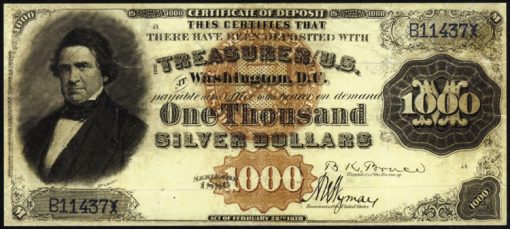 The five sold notes include other highlights as Series of 1878 $50 and $100 triple signature notes and Series of 1880 $500 and $1000 notes, each a seldom-seen rarity.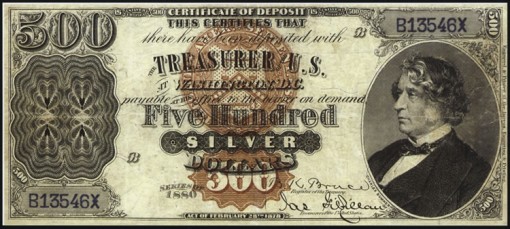 Large-size silver certificates started with the Series of 1878 and ended with the Series of 1923. The Bland-Allison Act of February 28, 1878, which created Morgan silver dollars, was also the genesis for Silver Certificates. A curious section in the legislation stipulated that Silver Certificates were not legal tender but could be exchanged for legal tender silver dollars. Silver Certificates of Deposit were soon printed.
The remaining 80+ notes will cross the auction block in August in the Stack's Bowers Galleries Official Auction of the ANA World's Fair of Money in Chicago.
Interested parties can request a catalog or to be added to the informational mailing list by contacting Stack's Bowers Galleries (stacksbowers.com) at 800.458.4646 or info@stacksbowers.com.