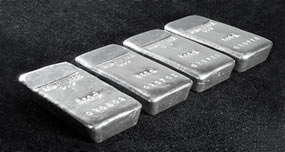 Gold fell 0.5% on Tuesday after snapping a seven-session losing streak on Monday.
Gold for June delivery declined $6.50 to settle at $1,377.60 an ounce on the Comex in New York. The precious metal traded between an intraday low of $1,358.00 and a high of $1,399.90. Gold prices jumped $19.40, or 1.4%, on Monday.
"Rumors of [the Federal Reserve] ending [quantitative easing] have gold on the defensive along with a better than 30% decline in the yen's value over the past six months," MarketWatch quoted James Carrillo, senior portfolio adviser for precious-metals investment firm Swiss America Trading Corp. "This is supporting the dollar."
Minutes from the last FOMC meeting about its monetary and quantitative easing policy are scheduled for release Wednesday. Fed Chairman Ben Bernanke will also testify before Congress on Wednesday.
"Tomorrow's minutes are very important as there is some concern that the Fed may want to cut back on the stimulus," Michael Smith, the president of T&K Futures & Options in Port St. Lucie, Florida, said in a telephone interview relayed on Bloomberg. "Also, the dollar's strength is working against gold."
Silver for July delivery shed 12.7 cents, or 0.6%, to finish at $22.455 an ounce. Silver prices ranged from $22.015 to $22.910. The white metal gained 23.0 cents, or 1.0%, in the previous session.
Rounding out New York precious metals futures on Tuesday:
July platinum settled at $1,458.40 an ounce, falling $26.20, or 1.8%. The PGM metal ranged from $1,446.10 to $1,494.50. Platinum gained $16.60, or 1.1%, during the prior session.

Palladium for June delivery fell $2.65, or 0.4%, to close at $748.10 an ounce. Prices traded between $735.75 and $749.90. Palladium gained $10.50, or 1.4%, on Monday
London Fix Precious Metals
London Fix precious metals marked gains after falling Monday. In contrasting the Monday PM to Tuesday PM London fixings:
Gold added $6.00, or 0.4%, to $1,360.75 an ounce,
Silver surged 78.0 cents, or 3.6%, to $22.44 an ounce,
Platinum advanced $9.00, or 0.6%, to $1,456.00 an ounce, and
Palladium gained $7.00, or 1.0%, to $741.00 an ounce
US Bullion Coin Sales in May
Every type of United States Mint bullion product advanced Tuesday. In total ounces, U.S. Mint distributors ordered 6,500 ounces of gold coins and 270,500 ounces of silver coins. U.S. Mint reported sales broken out by bullion product are listed below. Figures are in the number of coins sold, not total ounces.
American Eagle and Buffalo Bullion Coin Sales
Tuesday Sales
Last Week
Week-To-Date
May Sales
YTD Sales
$50 American Eagle Gold Bullion Coins
5,000
28,000
7,000
50,000
484,000
$25 American Eagle Gold Bullion Coins
0
2,000
0
2,000
42,000
$10 American Eagle Gold Bullion Coins
0
4,000
0
4,000
76,000
$5 American Eagle Gold Bullion Coins*
0
0
0
0
300,000
$50 American Buffalo Gold Bullion Coins
1,500
6,500
2,000
11,000
143,000
White Mountain 5 oz. Silver Bullion Coins
10,600
12,700
10,600
23,300
23,300
American Eagle Silver Bullion Coins
217,500
833,500
829,000
2,562,500
20,872,500
*The U.S. Mint has temporarily suspended sales of its smallest American Gold Eagle until inventories are replenished. The Mint ran out of them on April 22.