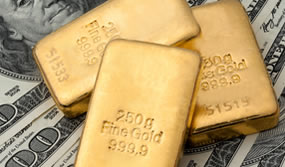 Gold futures climbed Monday for the first time in eight sessions as the U.S. dollar fell from an almost three-year high.
Gold for June delivery ended at $1,384.10 an ounce on the Comex in New York, advancing $19.40, or 1.4%. Gold prices during the day traded between $1,336.30 and $1,397.90. Weakness in the dollar and short covering were among reasons cited for gains.
"A whole load of short-covering came in this morning as people got unnerved looking at the way some of the precious charts had tanked," Reuters quoted Adrian Day at Adrian Day Asset Management in Annapolis, Maryland. "I'm a buyer at these levels," said Day, whose firm manages about $200 million in commodities, about a third of that in gold holdings.
Silver prices fluctuated largely Monday. Silver for July delivery gained 23.0 cents, or 1.0%, to settle at $22.582 an ounce. The precious metal widely ranged from an intraday low of $20.25 to a high of $23.24 — a $2.99 swing. Silver prices on Friday declined 30.7 cents.
"Silver's fall could have been related to the gyrating yen-dollar price as some hedge funds and banks use proprietary trading systems and sharp losses in a leveraged yen-dollar position could have led to forced liquidation of silver," MarketWatch quoted Mark O'Byrne, research director at Dublin-based GoldCore.

"However, the scale of the losses in the silver market would suggest that it was not simply due to margin selling on yen speculation losses," he said. "Rather, the scale of selling suggests one or two massive sellers, likely institutional, who were determined to force the silver price lower, possibly in order to close or buy back underwater short positions."
In other New York precious metals futures on Monday:
July platinum closed at $1,484.60 an ounce, rising $16.60, or 1.1%, to snap a three-session losing streak. The PGM metal traded between $1,430.10 and $1,496.00.

Advancing for the fifth time in six sessions, palladium for June delivery jumped $10.50, or 1.4%, to $750.75 an ounce. Prices ranged from $732.10 to $754.95.
Last week, palladium surged 4.9% while other metals precious metals declined with losses of 5.0% for gold, 5.5% for silver and 1.2% for platinum.
London Fix Precious Metals
London Fix precious metals headed lower to start the new week. In contrasting the Friday PM to Monday PM London fixings:
Gold declined $14.00, or 1.0%, to $1,354.75 an ounce,
Silver fell 86.0 cents, or 3.8%, to $21.66 an ounce,
Platinum lost $23.00, or 1.6%, to $1,447.00 an ounce, and
Palladium shed $2.00, or 0.3%, to $734.00 an ounce
Last week, losses in precious metals included gold by 4.0%, silver by 3.6% and platinum by 1.3%. Palladium added 1.1%.
US Bullion Coin Sales in May
U.S. Mint bullion coin sales on Monday advanced across all one-ounce products. Increases included 2,000 ounces in American Gold Eagles, 500 ounces in American Gold Buffalo coins and 611,500 ounces in American Silver Eagles.
The following are the latest daily, May and year-to-date bullion coin totals as published by the United States Mint.
American Eagle and Buffalo Bullion Coin Sales
Monday Sales
Last Week
Week-To-Date
May Sales
YTD Sales
$50 American Eagle Gold Bullion Coins
2,000
28,000
2,000
45,000
479,000
$25 American Eagle Gold Bullion Coins
0
2,000
0
2,000
42,000
$10 American Eagle Gold Bullion Coins
0
4,000
0
4,000
76,000
$5 American Eagle Gold Bullion Coins*
0
0
0
0
300,000
$50 American Buffalo Gold Bullion Coins
500
6,500
500
9,500
141,500
White Mountain 5 oz. Silver Bullion Coins
0
12,700
0
12,700
12,700
American Eagle Silver Bullion Coins
611,500
833,500
611,500
2,345,000
20,655,000
*The U.S. Mint has temporarily suspended sales of its smallest American Gold Eagle until inventories are replenished. The Mint ran out of them on April 22.