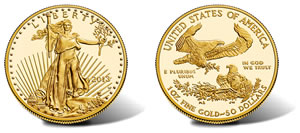 Based on prior-day declines in gold and its direction today, the United States Mint on Wednesday is likely to reduce prices on its 2013-W Proof American Gold Eagles, its First Spouse Gold Coins and its 5-Star Generals Commemorative Gold Coins.
These coins can see pricing adjustments every Wednesday if the weekly London Fix gold average shifts into a different level of cost-setting tables established by the U.S. Mint.
Gold coin prices were last increased on May 1, 2013 when the weekly average for gold climbed into the range of $1,450 to $1,499.99 an ounce. London fixings for tomorrow must still be considered, but gold is currently bound to a lower coin-pricing range of $1,400 to $1,449.99 an ounce. That calls for a $50 drop in price for every ounce of gold in a coin.
The bottom line, expect lower coin prices if Wednesday's AM fixing for gold is at or below $1,508.45 an ounce and the PM fixing stays under $1,450 an ounce. As an indicator, spot gold is currently at $1,426 an ounce.
This coin news article will be edited to show what actually happened. Based on current conditions, the table below offers the most likely changes for each gold product. Also, a current sales column was added to the table since the U.S. Mint just provided new product sales figures that have an as of date of Monday, May 13.
Update: Gold coin prices were reduced on Wednesday to the expected levels that are shown in the "To" column below.
Products
Current Sales
From
To
2013 Proof 5-Star Generals $5 Gold Coins
3,526
$466.20
$454.05
2013 Uncirculated 5-Star Generals $5 Gold Coins
3,349
$461.20
$449.05
2012 Proof First Spouse Gold Coins
Variable by Design
$940.00
$915.00
2012 Uncirculated First Spouse Gold Coins
$920.00
$895.00
2013-W Proof American Eagle Gold Coins (1 oz)
7,108
$1,810.00
$1,760.00
2013-W Proof American Eagle Gold Coins (1/2 oz)
1,049
$920.00
$895.00
2013-W Proof American Eagle Gold Coins (1/4 oz)
1,502
$472.50
$460.00
2013-W Proof American Eagle Gold Coins (1/10 oz)
5,400
$200.00
$195.00
2013-W Proof Gold Eagle Four-Coin Set
4,280
$3,352.50
$3,260.00
The United States Mint tends to adjust coin prices on Wednesday, when needed, at around noon Eastern Time.
For more information on the proof Gold Eagles that launched less than one month ago, read this coin news article.
Price for 2012-W Proof American Eagle Platinum Coin
Prices for U.S. coins produced in platinum are also adjusted when the market value of the precious metal changes significantly.
Today, the Mint has one platinum coin for sale, the 2012-W Proof Platinum Eagle for $1,850. Its price went up $50 on May 1, 2013. No pricing change is expected tomorrow for this Eagle, though there is a small chance it could advance to $1,900. For that to happen, Wednesday's AM fixing would need to move above $1,534.95 an ounce and the PM fixing would have to rise above $1,500 an ounce. Spot platinum is currently $1,498.00.
Update: The price of the proof Platinum Eagle did not change on Wednesday.