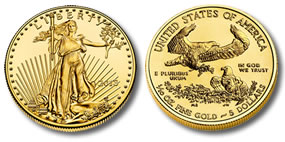 Gold, silver and other precious metals retreated Tuesday, though physical demand remains robust. On that note, the U.S. Mint temporarily suspended sales for one of its gold bullion coins, saying today that:
Market demand for its "American Eagle and American Buffalo Gold Bullion Coins continues at a brisk pace" with sales of its 1/10 oz American Gold Eagle suspended until "inventories can be replenished."
In bullion futures, gold snapped a three-session winning streak as June contract prices fell $12.40, or 0.9%, to close at $1,408.80 an ounce on the Comex in New York. Prices ranged from an intraday low of $1,404.00 to a high of $1,432.80. The yellow metal advanced $25.60, or 1.8%, on Monday. Losses on Tuesday were attributed to a stronger U.S. dollar.
"Gold is lower as well as other commodities including crude oil and base metals, which fell after weaker-than-expected economic data out of China and Europe, which gave a boost to the dollar," Commerzbank analyst Carsten Fritsch said, according to Reuters.
Silver for May delivery sank 50.7 cents, or 2.2%, to close at $22.817 an ounce. The precious metal traded from $22.555 to $23.405. On Monday, silver posted an increase of 36.4 cents, or 1.6%, after falling for three straight sessions.
In PGM futures Tuesday:
July platinum lost $19.00, or 1.3%, to $1,417.80 an ounce, ranging from $1,411.00 to $1,437.00.

Palladium for June delivery turned down $8.55, or 1.3%, to $673.35 an ounce, trading between $666.20 and $684.10.
London Fix Precious Metals
Earlier London fixed precious metals declined as well. In contrasting the Monday PM to Tuesday PM London Fix prices:
Gold lost $16.50, or 1.2%, to $1,408.00 an ounce,
Silver declined 59.0 cents, or 2.5%, to $23.01 an ounce,
Platinum fell $17.00, or 1.2%, to $1,417.00 an ounce, and
Palladium shed $13.00, or 1.9%, to $670.00 an ounce
US Bullion Coin Sales in April
U.S. Mint sales advanced Tuesday for all bullion coins, excluding the suspended 1/10 oz Gold Eagle. Sales for the other Gold Eagles jumped 8,500 ounces, lifting April sales to 183,500 ounces — the highest for a month since 231,500 ounces moved in December 2009.
Aside from the smallest Gold Eagle, which will stay off sale until enough are produced to satisfy anticipated marketplace demand, there apparently is plenty of other gold bullion coins.
"The United States Mint continues to offer its other 22 karat gold bullion coin options. These include the American Eagle one ounce, one-half ounce and one-quarter ounce sizes. Sufficient inventories of the 24 karat American Buffalo One Ounce Gold Bullion Coins also exist," the U.S. Mint said Tuesday.
Sale of the American Buffalo gold bullion coins rose 4,000 on Tuesday for a month-to-date total of 32,500. That nearly triples the sales totals from February and from March.
Finally, American Eagle silver bullion coins climbed 164,000 for a new monthly total of just over 3.2 million. Sales are on track to surpass the monthly gains in March (3.3565 million) and in February (3.3685 million). Year-to-date sales are at 17.455 million. That level was not reached last year until July 2.
U.S. Mint bullion sales by day, for April and the year-to-date follow.
American Eagle and Buffalo Bullion Coin Sales
Tuesday Sales
Last Week
Weekly Sales
April Sales
YTD Sales
$50 American Eagle Gold Bullion Coins
7,500
104,000
14,500
163,000
409,500
$25 American Eagle Gold Bullion Coins
1,000
7,000
1,000
12,000
38,000
$10 American Eagle Gold Bullion Coins
2,000
18,000
2,000
24,000
70,000
$5 American Eagle Gold Bullion Coins
0
50,000
5,000
85,000
300,000
$50 American Buffalo Gold Bullion Coins
4,000
14,500
11,000
32,500
127,500
American Eagle Bullion Silver Coin
164,000
675,000
845,000
3,232,000
17,455,000
All bullion figures above are in the number of coins sold. Calculate total ounces by using the bullion coin's weight. 2011-2012 America the Beautiful Five Ounce Silver Bullion Coins sold out on March 1, 2013. The U.S. Mint is not yet selling any of this year's five ounce coins.