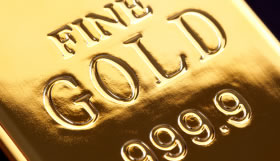 Precious metals spiraled south for a second session Monday with gold and silver sinking to multi-year lows.
Gold for June delivery dived $140.30, or 9.3%, to end at $1,361.10 an ounce on the Comex in New York. The settlement price was the lowest since February 2011 and the one-day dollar drop the biggest since January 1980. Prices traded as low as $1,355.30 an ounce.
"We have seen massive liquidation from all quarters — ETFs, funds, CTAs, specs and even Chinese and Indian physical buyers. This is a market that has only got one thing on its mind … get me out," Reuters quoted David Govett, head of precious metals at Marex Spectron in London.
Since Thursday, gold prices have plunged $203.80, or 13.0%. They are down $314.70, or 22.7%, for the year.
"There are a lot of people throwing up their hands. Throwing positions overboard. Panic is everywhere," Dennis Gartman, editor of The Gartman Letter, said on CNBC's Squawk Box in an interview on Monday. "I've never seen anything like this. I mean it."
Silver was hit hardest. Silver for May delivery sank $2.97, or 11.3%, to $23.361 an ounce. The closing price was the lowest since October 2010. The precious metal ranged from an intraday low of $22.92 to a high of $26.045.
"Institutional investors will continue to unload their positions until a bottom is achieved," MarketWatch quoted David Morgan, publisher of investment newsletter the Morgan Report. But the fundamentals for both gold and silver are "still strong" against a backdrop of financial woes in Cyprus, geopolitical tensions surrounding North Korea, "and the silver retail market is showing high premiums with shipping delays."
Silver prices in the last two sessions have fallen $4.34, or 15.7% and they are off $6.87, or 22.7%, in 2013.
In other New York bullion prices Monday:
July platinum dropped $71.10, or 4.8%, to $1,424.80 an ounce, trading between $1,411.40 and $1,488.00.

Palladium for June delivery declined $42.10, or 5.9%, to $667 an ounce, ranging from $658.50 to $709.85.
Losses in precious metals last week accumulated to 4.7% for gold, 3.3% for silver, 2.6% for platinum and 2.0% for palladium.
London Fix
Precious metals in London plummeted as well. When comparing the Friday PM to Monday PM London Fix prices:
Gold declined $140.50, or 9.2%, to $1,395.00 an ounce,
Silver dived $3.86, or 14.1%, to $23.54 an ounce,
Platinum fell $66.00, or 4.4%, to $1,448.00 an ounce, and
Palladium lost $39.50, or 5.5%, to $676.00 an ounce
Last week in London fixings, silver advanced 1.6% while gold fell 2.1%, platinum declined 1.1% and palladium shed 0.6%.
US Bullion Coin Sales in April
Sales of U.S. Mint bullion coins were unchanged Monday after robust gains last week.
In related coin news, the U.S. Mint on Monday had the following silver products taken off sales for re-pricing:
2013 American Eagle Silver Proof Coin (GA6)
2012 U.S. Mint Annual Uncirculated Dollar Coin Set (XA3)
2012 ATB Silver 5 Ounce Uncirculated — Chaco Culture (NQ1)
U.S. Mint bullion sales for April and the year-to-date follow.
American Eagle and Buffalo Bullion Coin Sales
Monday Sales
Last Week
Week-To-Date Sales
April Sales
YTD Sales
$50 American Eagle Gold Bullion Coins
0
25,500
0
44,500
291,000
$25 American Eagle Gold Bullion Coins
0
3,000
0
4,000
30,000
$10 American Eagle Gold Bullion Coins
0
2,000
0
4,000
50,000
$5 American Eagle Gold Bullion Coins
0
10,000
0
30,000
245,000
$50 American Buffalo Gold Bullion Coins
0
5,000
0
7,000
102,000
American Eagle Bullion Silver Coins
0
900,000
0
1,712,000
15,935,000
All bullion figures above are in the number of coins sold. Calculate total ounces by using the bullion coin's weight.