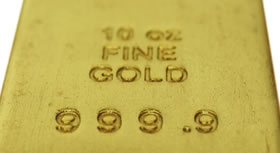 Gold fell Thursday, logging declines in four of the last five sessions to end the holiday-shortened trading week below $1,600 an ounce.
Gold prices for June delivery settled lower by $11.50, or 0.7%, to $1,595.70 an ounce on the Comex in New York. That drove the precious metal down 0.7% for the week as well. Though gold gained 1.1% for March, it lost 4.8% for the quarter. The quarterly loss is gold's second in a row.
In observance of Good Friday, U.S. and London markets will be closed on Friday, March 29, 2013. The second quarter launches Monday with some market-watchers expecting gold prices to begin moving higher.
"In the Kitco News Gold Survey, out of 34 participants, 27 responded this week. Of those 27 participants, 17 see prices up, while six see prices down, and four see prices moving sideways or are neutral," reports Kitco.

"Several participants cited the continued economic mess in the eurozone as supportive for gold prices and for gold's safe-haven properties…

Those who see weaker prices cited gold's continued inability to break through stout resistance at $1,620…"
Off for a third straight day, silver for May delivery declined 28.9 cents, or 1%, to close at $28.323 an ounce. Silver dropped 1.3% for the week, a modest 0.4% for March and dug lower in the quarter by 6.3%.
In PGM futures on Thursday, for the week and month:
July platinum lost $8.90, or 0.6%, to $1,574.60 an ounce, marking a weekly decline of 0.5% and a March loss of 0.6%.

Sister metal palladium missed a three-session winning streak by 5 cents with June futures settling down to $768.25 an ounce. Palladium advanced 0.9% on the week and gained 4.6% for the month.
March increases padded PGM quarterly gains. During the first quarter 2013, platinum advanced 2.1% and palladium soared 9.2%.
Precious Metals in London
London precious metals fixings split Thursday with all but gold prices higher. When comparing the Wednesday PM to Thursday PM London Fix prices:
Gold prices shed $4.75, or 0.3%, to $1,598.25 an ounce,
Silver gained 31.0 cents, or 1.1%, to $28.64 an ounce,
Platinum climbed $1.00, or 0.1%, to $1,576.00 an ounce, and
Palladium advanced $10.00, or 1.3%, to $770.00 an ounce
For March, falling were silver at 1.1% and platinum at 1.4% and gaining were gold prices by 0.6% and palladium prices by 3.5%.
For the first quarter and year-to-date in London, gold fell 4.0% and silver declined 4.4% while platinum gained 3.5% and palladium surged 10.2%.
US Bullion Coin Sales in March
U.S. Mint bullion sales are yet to close officially for March, though they are not expected to change. As they total now:
American Eagle silver coins are at 3,356,500, off less than 0.4% from February and up 32.0% from a year ago. Year-to-date sales of 14,223,000 mark an all-time high through the first three months of any year since the Silver Eagles debuted in 1986.

March sales of American Eagle gold coins are at 62,000 ounces, down 23.0% from the previous month and 0.8% from the same month last year.

American Buffalo gold coins are at 11,000 ounces, off 4.3% from February and 57.7% from a year ago. March 2012 at 26,000 ounces happened to be the strongest month of last year.

March sales of America the Beautiful 5 Ounce Silver Bullion Coins are at 19,800 coins, up 38.1% from the prior month and 1,000% from the same month last year. All sales came on March 1, the day the coins from 2012 sold out.
The following are March and year-to-date bullion coin totals as reported by the U.S. Mint.
American Eagle and Buffalo Bullion Coin Sales
Thursday Sales
Last Week
Week-To-Date Sales
March Sales
YTD Sales
$50 American Eagle Gold Coins
0
11,000
13,500
54,000
246,500
$25 American Eagle Gold Coins
0
0
1,000
4,000
26,000
$10 American Eagle Gold Coins
0
0
4,000
10,000
46,000
$5 American Eagle Gold Coins
0
0
15,000
35,000
215,000
$50 American Buffalo Gold Coins
0
3,500
1,000
11,000
95,000
American Silver Eagle Bullion Coins
0
726,500
918,500
3,356,500
14,223,000
America the Beautiful 5 Oz. Silver Bullion Coin Sales
Thursday Sales
Last Week
Weekly Sales
March Sales
All-Time Sales
2012 El Yunque National Forest 5 oz. Silver Bullion Coins
Sold Out
0
24,000
2012 Chaco Culture National Historical Park 5 oz. Silver Bullion Coins
600
24,400
2012 Acadia National Park 5 oz. Silver Bullion Coins
0
25,400
2012 Hawai'i Volcanoes 5 oz. Silver Bullion Coins
0
20,000
2012 Denali National Park 5 oz. Silver Bullion Coins
0
20,000
2011 Olympic National Park 5 oz. Silver Bullion Coins
0
0
0
0
104,900
2011 Vicksburg National Military Park 5 oz. Silver Bullion Coins
0
0
0
10,400
58,100
2011 Chickasaw Park 5 oz. Silver Bullion Coins
0
0
0
8,800
48,700
TOTAL
0
0
0
19,800
325,500
All bullion figures above are in the number of coins sold. Calculate total ounces by using the bullion coin's weight.