Two unique commemorative coins from the Royal Canadian Mint celebrate the 75th anniversary of Ducks Unlimited Canada. The commemoratives include a 2013 $10 Mallard Silver Coin and a 2013 25c Mallard Colored Coin.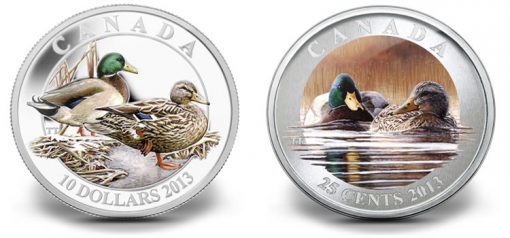 Both strikes feature reverse designs showcasing colorful images of male and female mallards in their natural habitat. The $10 coin is in 99.99% pure silver to proof quality and the 25-cent coin is in cupro-nickel to specimen quality.
"Ducks Unlimited Canada (DUC) is the leader in wetland conservation," according to the organization's website. "A registered charity, DUC partners with government, industry, non-profit organizations and landowners to conserve wetlands that are critical to waterfowl, wildlife and the environment."
Canadian artist Trevor Tennant designed both reverses depicting the Mallards. The male, or drake, is identified by its bright green head, ochre yellow bill, and brown chest. The female, or hen, appears in mottled brown hues with white plumage and an indigo speculum along the edge of its wing.
Designs find the ducks amidst their traditional surroundings. The $10 silver coin has the pair of ducks waddling together along a snowy shore in preparation for their migration south. The 25-cent cupro-nickel coin finds the ducks in warmer weather swimming in front of wetland reeds.
Specifications of the 2013 Canadian Mallard coins follow:
| | | |
| --- | --- | --- |
| | $10 Mallard Silver Coin | 25c Mallard Colored Coin |
| Composition | 99.99% silver | cupro-nickel |
| Finish | proof | specimen |
| Weight (g) | 15.87 | 0.5 |
| Diameter (mm) | 34 | 35 |
| Edge | serrated | plain |
| Face Value (CAD) | 10 | 0.25 |
| Mintage | 10,000 | 17,500 |
Each commemorative coin comes encapsulated along with a Royal Canadian Mint-branded maroon clamshell case that is lined with flock and protected by a black sleeve. A serialized certificate is also included.
Pricing of the silver coin is CAD $69.95 with the cupro-nickel coin at CAD $29.95.
Orders for 2013 Canadian Mallard coins may be placed on the Royal Canadian Mint's website of www.mint.ca. Phone orders are accepted at 1-800-267-1871 (Canada) or 1-800-268-6468 (US).