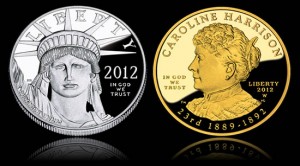 It is possible that the United States Mint on Wednesday will cut prices on its collectible gold coins and platinum coin in response to consistently lower precious metals.
Since 2013-dated platinum and gold coins have yet to be released and all the 2012-dated American Eagle and American Buffalo gold products have sold out or are no longer available, the coins up for price cuts are limited to:
2012-W Proof American Platinum Eagle from $2,000 to $1,950
(4) 2012-W Proof First Spouse Gold Coins from $1,015 to $990
(4) 2012-W Uncirculated First Spouse Gold Coins from $995 to $970
The eight First Spouse Gold Coins feature reverse designs honoring Alice Paul and the suffrage movement, Frances Cleveland (first term), Caroline Harrison and Frances Cleveland (second term).
Update: The U.S. Mint reduced prices for the coins described above. The cuts happened almost 24 hours later than expected with federal offices in Washington, D.C. closed Wednesday due to weather conditions.
Last week, the U.S. Mint's implementation of new pricing grids resulted in price hikes for the above coins. The increases were based on weekly averages of both platinum and gold that fell within $1,600 to $1,649.99 an ounce. Since then, weekly averages for the precious metals have retreated to a lower pricing tier of between $1,550 and $1,599.99 an ounce. As such, coin pricing cuts are in play.
They will happen, in fact, as long as the Wednesday PM London Fix for gold and for platinum stay below $1,600 an ounce. But if either precious metal jumps above the threshold, then coins minted from them will stay at current prices. As of this writing, it seems most likely that prices for the First Spouse Gold Coins will decline since spot gold is $1,578.40 an ounce. It is a bit iffy as to the Platinum Eagle's direction since the spot price for platinum now is at $1,597 an ounce. (Keep track of precious metals prices here.)
If pricing changes do kick in, the U.S. Mint typically halts ordering for the affected coins for about 30 minutes until new prices are entered and checked. Generally, this happens right before noon ET.